Developed in conjunction with Joomla extensions.
Connect with usTwitterFacebook
We are sorry. We are experiencing higher than normal call level. Please call back a little later. Click. This was my eighth call in four hours — none successful — to one of the 15 health plans in New York for low income seniors or disabled adults.
Previously these New Yorkers had their drug prescriptions covered by Medicaid without charge. Now, thanks to the new Medicare prescription drug plan pushed through Congress by the Bush administration and put into effect at the beginning of this month, they have been automatically enrolled in one of 15 private health plans. They are now required to pay for the medications, sometimes full price.
In the short time it has been in place, the new Medicare Part D prescription drug plan has proven disastrous in state after state throughout the country. "Mix-ups in the first weeks of the Medicare drug benefit have vexed many beneficiaries and pharmacists," the New York Times recently reported. "At least 24 states have taken emergency action to pay for prescription drugs if people cannot obtain them by using the new Medicare drug benefit." One of those states is New York, as announced on January 13th by Governor George Pataki: "Hopefully," the governor said, "the federal government will resolve the difficulties so that all of our seniors and all of our disabled persons will continue to get the drug coverage they need." A follow-up editorial in the Times was entitled The Medicare Drug Mess.
The problems are legion — inadequate coverage, computer glitches, inadequate training of pharmacists, long delays — and they fall most heavily on the poor and the mentally ill.
One 57-year old woman in upper Manhattan, diagnosed as paranoid schizophrenic and a resident of The Bridge, a supervised community residence, came away empty-handed this month from the pharmacy that usually refills her eight different medications.
One medication, Provacol, for high blood pressure, was not covered at all, and she was told she would have to pay full price. And her psychiatric medication, Seroquel, was covered, but not in the prescribed amount.
Without enough money even for the copays, she left the drug store without any of her medications.
Her social worker at The Bridge, Karen Davidson Ruddy, spoke with the druggist; he agreed to provide a 15-day supply of Seroquel. The Bridge loaned the woman money to cover all the copays. As for the Provacol, Ruddy learned it could be covered by switching the woman to a different tier of the plan, but only if prior authorization was secured over the phone. For two and a half days, Ruddy and her staff tried unsuccessfully to get through by phone for this authorization.
"The machine kept saying 'We know your time is important so we will get to you soon.' After two days of hearing that," said Ruddy, "you start to believe that your time is not important to them."
The woman had now gone five days without her high blood pressure medication. Giving up on trying to reach the private health plan, Ruddy decided to check with the prescribing doctor at a walk-in clinic on West 97th Street. The doctor prescribed a drug that the plan would cover.
They are called dual eligibles–low income seniors or disabled adults, who qualify for both Medicaid and Medicare benefits. There are about 600,000 such dual eligibles in New York State. Dr. Harriet O'Hagan, medical director at the Bridge, thinks that 20 percent of her dual eligible patients have been running into difficulties.
"We checked the Web sites ahead of time and picked plans to cover medications," she explained. "but when they went to the pharmacy, there were still problems." And some of the problems have O'Hagan dumbfounded.
"Zyprexa, the most widely sold antipsychotic medication in America, is not covered," said O'Hagan. "Same thing with Abilify. And the antidepressant Zoloft–a widely used and highly effective antidepressant. I have no idea why these drugs are not covered. Another one is the Prolixin injection, one of the cheapest medications for psychosis. It is used for people who are noncompliant and it just costs pennies. Why is this not covered? It is blindness or stupidity."
In order to get these drugs for her patients, Dr. O'Hagan now has to produce evidence that she has already tried other medications, and she must prove that the client has been on this particular drug a long time.
"I have been calling the Medicare number, but I cannot get through to a human being," said O'Hagan. "I was on the phone for hours. Now I am calling the plans. I got through to one health plan for one person, but I have about twenty others."
She also found that the local pharmacist was not honoring the transition policy. "He does not believe he will be reimbursed."
Feeling the political heat, President George W. Bush has directed Medicare insurers to take immediate steps to cover 30-day emergency supplies of drugs for dual eligible citizens and the Bush administration insisted that low-income co-pays not exceed $5. Republicans and Democrats seem united in this decision to publicly bolster the transition policy. Meanwhile, the administrator of the Center for Medicare and Medicaid Services, Mark McClellan, has acknowledged the chaos, and said that his agency was working "around the clock" to fix the problems.
In the interim, Dr. O'Hagan instituted her own emergency program: She has been giving her patients medication samples sent by drug companies. "We're giving those out, but they are going to run out soon." The effect of not taking medication for a few days or weeks on people with mental illness can vary, according to O'Hagan. "Some people decompensate (deteriorate physically or psychologically) within days," she said. "For others it is months. I may be forced to make substitutes for some of the medications and that may not be appropriate. There may be side effects. It feels kind of third world."
The Coalition of Mental Health Agencies, an umbrella organization that advocates and assists nonprofit agencies caring for the mentally ill in New York City, reported many of the same problems coming into their Medicare Part D telephone Helpline.
Bill Zeiser of the coalition had a caseworker tell him about a 57-year old mentally ill client from the Bronx with HIV who was about to run out of his AIDS medication. Due to a computer glitch, he was being asked for high co-pays for both his psychotropic and HIV medications. One particular medication was going to cost him $180–and he is on several different prescriptions. The last Zeiser heard, the caseworker was exploring the possibility of having his client admitted to the hospital to get the medications.
Hospitalization was "one of worst case scenarios that we had envisioned," said Zeiser, "but now we see it come to fruition. The grim reality is that people have to do what they have to do to get medication.
"The irony," he continued, "is that it is so much more costly to have these people checking into hospitals to get their medications than if the Medicaid benefits had carried over in the first place."
At a small pharmacy, Price Wise on West 81st and Broadway, the pharmacist on duty, Anthony Mladinov, reluctantly broke away from his work to talk for a few minutes about the drug plan. "This is the first chance I've had all day to catch up." Mladinov estimates he is staying an extra two hours every day to manage all the work.
"Some people come in without an insurance card," he reported, "but there are things we can do to help." He heard that if you go into one of the [chain drug stores] without a card, they tell you to come back when you have it.
The most common problem are customers finding their prescriptions are not on their plan. "Of course, if they did their homework beforehand," the pharmacist said, "and checked online three months ago, and called the plan back then, back when you could reach them on the phone, then they would know which plan to be on. Now you cannot get through to an HMO." For the most part, though, he was optimistic. "It will all be straightened out in a week or two."
"I certainly think things will improve," said Karyn Krampitz, director of Special Projects at the Coalition for Voluntary Mental Health Agencies. "The fact is that the pharmacists for the most part want to help, but they were not properly trained in time and many of them are not going to dispense medications unless they have some assurance that they can bill someone for it."
Social worker Ruddy recommends to her clients that they go to small independent pharmacies rather than the large chains. "They know us and they work with us," she explained. "If you have a good relationship with your pharmacist, the hope is that you can muddle through this together."
Even if many of these short term issues are resolved in the coming weeks, Bill Zeiser sees long term systemic problems that need to be addressed, such as the dual eligible copays and the complexity of the system. "What we want is for the Feds to ensure an uninterrupted supply of necessary medications for dual eligibles," said Zeiser. "After the transition period, a dual eligible would be at square one, still unable to get the medication they need from their plan, which doesn't cover it. In many cases, a thirty day supply will simply not be enough to hold someone over while they navigate the process."
Many fear that copayments may discourage mentally ill clients from taking their medications. "My clients say, 'OK, I'll take the medications,'" said Ruddy, "but when we tell them they have to pay for them, they don't want to do that."
"Some of the mentally ill would just as soon not take their medications" stressed Karyn Krampitz "So any reason that disrupts it, they just do not take it, and that is a major problem."
Medicare Part D Plan Finder
Good comparison tool for health plans.
ePocrates
A private company that has their own interactive online tool, which allows an individual to compare formularies.
Government source for basic Medicare Part D info
New York State Long Term Care Ombudsman's office
For individuals in long term care facilities who have problems getting medications, no matter what their diagnosis.

Medicare Rights Center
Coalition of Voluntary Mental Health Agencies
The Coalition's Part D Helpline: 212-742-1873. Available Tuesdays and Thursdays from 10 AM – 5 PM
New York Chapter of NAMI (National Alliance for the Mentally Ill)
311
The Department of Aging has centers around the city where volunteers and staff will help people. A person need only call 311 and say "I need help figuring out Medicare Part D" and the operator will refer them to the nearest DFTA Center.
1-800-MEDICARE
Â
The city's improved fiscal outlook presents the opportunity to reexamine and refocus budget priorities by investing in the not-for-profit human service sector, especially in the context of increasing poverty and federal budget cuts. The Census Bureau released data in August that show that the national poverty rate increased in 2004 for the fourth consecutive year to 12.7 percent or 37 million Americans. In New York City that rate increases to 20.3 percent or one in five of us. One in three children are poor. The rate for non-Hispanic blacks is 29 percent. And finally, the Bronx and Brooklyn are among the top 10 most impoverished counties in the nation.
These are grim statistics, and they reflect an even grimmer reality to the 1.6 million people — children, families and elderly — who rely on social services and call New York City their home. Cuts at the federal level continue to erode safety nets. They disproportionately impact New York City residents because of the high poverty rate, and they further deplete already inadequate resources for programs. The January issue of the Non-Profit Times highlights the devastating impact of the federal budget cuts on the non-profit sector. According to the Aspen Institute, federal programs of interest to non-profit organizations, which should serve as the backbone of communities in times of crisis, will be cut between $40 billion and $71.5 billion over the next few years. One quote reads, "While proposed reductions would almost certainly increase demand for non-profit services they would simultaneously reduce the funding many non-profits have available to meet this demand."
These shortfalls will leave many community groups scrambling. In 2005, 76 percent reported government funding had failed to keep pace with increased costs, with the increase in health and liability insurance, office space and transportation having been particularly onerous. The large majority of these providers had made significant changes in order to remain viable and continue to serve. This included laying off staff, failing to give employees raises or cost of living adjustments, and even closing programs.
This is bad business. It's time to reexamine our budget priorities and increase our investment in services that pay for themselves many times over in long-term savings. Academics and policy makers have found that proactive investment in high quality community-based human services saves government and taxpayer money over time and improve the quality and economic well being for those who use the services. It sounds like a winning formula to me.
The most devastating fallout of the historic underfunding of the non-profit sector has been the recruitment and the retention of a qualified workforce. Of the agencies included in a 2000 Human Services Council survey, the average turnover rate among full-time direct care workers was 38 percent, with vacancies that remain unfilled for months. We must be able to pay fair and competitive salaries if we are to reverse this trend.
Similarly, the non-profit human services sector must be able to keep pace with rising overhead and fixed costs. They must have adequate technology to meet the information and tracking demands of government and other funders. They must pay skyrocketing health and liability insurance costs and, more recently, skyrocketing energy costs.
The sector can no longer manage the already enormous and growing demands placed upon it by doing more with less, thinking out of the box, being creative or a little belt tightening. It's 'been there, done that.'
Private dollars? The same Non-Profit Times article I quoted earlier goes on to say that experts believe that private contributions would have to double or triple if the private sector were to make up for cuts.
We are indeed fortunate to contemplate a budget surplus or a more positive fiscal outlook given the serious fiscal challenges this city has faced since 9/11. By investing in social services, New York City is uniquely positioned to realize a long-term return that promotes equality, opportunity, and economic development in all communities, and makes a real difference in the lives of those 1.6 million children, families and elderly who rely on social services and call New York City home.
Fatima Goldman is executive director of the Federation of Protestant Welfare Agencies
Â
The Alliance for the Arts recently announced the creation of a "cultural gift directory" (click on lower right-hand side of their homepage) to allow New Yorkers to give last-minute gifts connected to the arts. The Solomon R. Guggenheim museum, for example, is encouraging people to buy a gift membership, by promising to include with it a "festively-wrapped Frank Lloyd Wright-inspired mug set."
Jean Ryan would love a different gift from the Guggenheim. She would love for the curators of the Russian exhibition to make the wall labels easier to read. "Apparently the curators think the signs have to fit into the color scheme of the exhibit," says Ryan. So people with poor sight must do without them, and people with average sight have to squint a lot.
"People with disabilities often feel barely tolerated at museums instead of feeling welcomed," Ryan says. "At best, we're an afterthought." Ryan is one of the leaders of Disabled In Action of Metropolitan New York, an organization that has been fighting for the civil rights of the disabled since 1970.
Like most New Yorkers, she has been focusing on the New York City transit strike this month, though her perspective is different from many: "Have you noticed how none of the articles in the press mention how people with disabilities will — or will not — get around?" she said before the strike began. "I guess we'll be stuck in our houses again."
For three days in December, New Yorkers of all stripes struggled just to get to work. Many canceled all but essential obligations –- and restaurants, museums and theaters suffered the consequences.
But many disabled New Yorkers must struggle to get through the day every day, not just during a transit strike — and, say disability rights advocates, they do not understand why they must give up all but the essentials their entire lives. Besides, to many disabled (as to many New Yorkers in general) art and culture are essentials.
In numerous cases, a small shift — call it a tiny "gift" from cultural institutions and the entertainment industry, often at little or no cost — is all that the disabled would need to get much-enhanced experiences. And there would be benefits for other New Yorkers as well from these gifts:
1. Make labels in museums accessible for all.
The Guggenheim's way of designing wall labels is typical. "The signs next to paintings in almost every museum are so tiny," Jean Ryan says. "Why? We have to go right up to them to read them instead of being able to see them at a distance. It doesn't take away from the artwork itself to have large print signs with high contrast."
For wheelchair-users, Ryan says, it would make sense to add labels on display cases rather than just in them. "Often the labels in cases aren't at the right angle for us to see what they say, or we can't even see that they are there."
For the visually-impaired, Ryan suggests a channel in the audio guides that would have the facts that are on the wall labels and also include a simple description of the artwork.
Attorney General Eliot Spitzer announced earlier this month a deal with eight national theater chains to make it easier for visually and hearing impaired people to enjoy movies. The plan is to have cooperating theaters provide headsets to the visually-impaired that offer descriptions of the visuals of the film as it progresses (in-between the dialogue.) For the hearing-impaired, the theaters will have available assistive listening devices that are compatible with hearing aids, and will also offer "rear-window captioning" for the hearing-impaired – a technology that allows the hearing-impaired to see subtitles that appear to be on the screen, while the rest of the audience does not see them.
But both the headsets and the rear-window captioning devices will reportedly be available in only 38 theaters throughout the entire state; another 140 theaters will offer hearing aid-compatible assistive listening devices – or, in other words, the total number of theaters with this improved accessibility throughout New York State is fewer than half the number of screens in Manhattan alone.
Currently, a total of just five movie theaters in the entire New York City metropolitan area offer captioned or narrated movies.
It seems bizarre, if not insulting, to develop such a Rube_Goldberg device as rear-window captioning, the expense of which is apparently keeping them from more theaters, when movie theaters could simply run all their English-language movies (as they currently do their foreign-language movies) with English subtitles. It is difficult to imagine people complaining about this, at least not for long. Those who do not want to read the captions will get used to ignoring them. Far more than just the hearing-impaired patrons would surely appreciate them.
If commercial movie theaters come up with some excuse not to do this, there is absolutely no excuse for the various "movies in the park" festivals, since they can simply flip on the closed-captioning on their DVD player projectors.
Federal law requires theaters be accessible to people in wheelchairs. "The Department of Justice made some Broadway theaters improve accessibility last year," Jean Ryan says. These theaters "have accessible bathrooms on the main floor and they all have some sort of seating for people with mobility disabilities."
But what the theaters also offer too often, advocates say, is back-of-the-bus attitude. "Most Broadway theaters have wheelchair seating in the back row or on the extreme side and if you have a vision impairment, you can't see well from there. Even if you don't have a vision impairment, no one wants to sit in the last row or on the extreme side. I can't see anyone's faces from far-away seats.
"In some theaters, the only place for us to go is behind a pillar or a wall."
"Wheelchair accessibility in museum stores is a big problem," Ryan says. "There is a lot of merchandise on the floor and the aisles are too narrow or there is no turnaround." She names names – the gift shops of the Folk Art museum, the Brooklyn Botanical Gardens, the Brooklyn Museum and, perhaps most ironically, the Museum of Art and Design.
"If you talk to people from museums, they'll tell you about the special programs they have for blind people, for example," Ryan says. "But the everyday things — seating, signage, bathroom access, access to their stores — are neglected.
"All these things are our rights, not gifts we should have to be grateful for." But they would make nice gifts nonetheless.
Resources

After a divorce, a 27-year-old Brooklyn woman lost her home and ended up in a city shelter with her four children. She was found eligible for public assistance, and for a city program called Housing Stability Plus, which would try to find her housing.
But there were problems.
Like other people on welfare, she had to participate in work programs to keep her benefits. But one of her sons, an eight-year-old, has special needs. Since this was the summer, she enrolled him in a daycare program so that she could show up for her work assignments. But she was frequently called to pick him up because of his behavior problems, making it impossible for her to comply with work assignments; she also said she did not receive notice of the assignments.
She explained the problem to her case worker, presenting documents from her son's doctors and confirmation of her son's difficulties from the day care center. It didn't matter. She was sanctioned.
"Her housing is threatened and every aspect of her life is threatened," said Craig Acorn of the Community Service Society, who is her attorney. In Acorn's experience, this woman's case is typical of our current inflexible welfare system. "Most people in the system don't have a problem with wanting to comply with work rules. They are willing to do whatever it takes to keep their benefits," Acord said. "But the system doesn't really accommodate the person's needs. It's inflexible. If you miss one date, you are punished. It's extraordinarily punitive…"
"It is almost impossible to figure out the total number of people being sanctioned by the system," said Don Friedman, a policy analyst at the Community Service Society, "but I can very conservatively say that one-third of all public assistance households face sanctions in the course of a year. This is just for noncompliance of work rules. This doesnÂąt include the many other situations that can lead to sanctions or terminations of assistance, such as failure to comply with re-certification or one of myriad other administrative requirements and hurdles. And it would be reasonable to estimate that up to half of the public assistance population faces a reduction or termination of benefits in the course of a year. This is evidence of a system that is highly dysfunctional.
"A society can be measured by how it treats its most vulnerable people," Friedman said, and providing a system of support that enables a poor family to meet its most basic needs would be a positive indicator. New York City's current welfare policies, he argues, do not provide that support.
"If I had to name the two most revealing indicators of our societyÂąs reluctance to assist the very needy," said Friedman, "it would be (1) the inadequacy of benefits, and (2) that it is a punishment driven system."
The rent portion of the welfare grant was recently increased from $286 to $400 for the first time in 15 years. "This is not an insignificant amount," says Friedman, "but relative to the increase in the cost of rental housing over the last 15 years, this increase will not remotely keep pace with the cost of even the most modest housing. And the rest of the grant has not increased at all in 15 years, while the cost of living has gone up 50 or 60 percent. In effect, the value of the grant has been cut in half.
"How could you let a system that was totally inadequate 15 years ago lose half its value?"
A family of three in New York City getting public assistance and food stamps receives a value of some 75 percent of the federal poverty level. "Now the federal poverty level is an unrealistically low figure," says Friedman, "so to put a family at 75 percent of that is to condemn them to deep poverty." By contrast, in 1975, the welfare grant and food stamps put a family at 125 percent of the poverty level.
At a recent meeting of the Welfare Reform Network, New York State Assemblymember Deborah Glick expressed similar concerns. "Families cannot meet basic income needs even at the poverty level," Glick said. "The estimate for self-sufficiency for people living in New York City is 347 percent of the poverty level." GlickÂąs figures come from testimony in September provided by the Fiscal Policy Institute at a hearing before the Assembly Social Services Committee on the "Effect of Welfare Reform Policy in New York State."
To get another angle on this situation, Friedman directs readers to the Web site of the cityÂąs Human Resources Administration (HRA) for a snapshot of those receiving or applying for public assistance. Reviewing the chart, it becomes evident that a considerable number of people on welfare — 43 percent this particular week — are acknowledged by the system to have disabilities, be they physical or mental, or to be living with AIDS or substance abuse, or to be afflicted by other situations that arenÂąt broken down, such as domestic violence or low levels of education. "These are the realities of life in poverty," said Friedman.
Looking further down the HRA chart , we learn that the number of people participating in education or training this particular week is three percent. Adding in those with access to training in the Work Experience Program — 0.4 percent — it is clear that a very small percentage of people on public assistance are participating in education and training, strategies widely acknowledged to be long-term solutions to poverty.
"There is no question that education is the way out," said Assemblymember Glick. "Eighty-eight percent of women who have access to four years of college never return to the welfare rolls. Forty-eight percent of welfare recipients have no high school diploma. And 75 percent of New York City employers require two years of college for entry level positions."
Friedman now asks readers to follow the HRA chart down to the percentage of those threatened with sanctions or being sanctioned: 26 percent.
Meant to enforce compliance with all requirements and insure that people collecting benefits are still in need, sanctions in New York State involve a reduction in benefits. The Giuliani administration once suggested the welfare to work program would grind to a halt without sanctions. And although Mayor Bloomberg has been considerably less feisty about it, a recent New York Times article reports that while the number of people receiving assistance has declined under Bloomberg, "the percentage of recipients punished for not complying with work programs has stayed roughly the same as in the Giuliani years."
Numerous attempts were made to discuss the sanction policy with the cityÂąs Human Resources Administration, but calls were not returned.
"There is no evidence that sanctions promote better behavior," says Assemblymember Glick. "And of all the factors affecting the well-being [of the poor], sanctions are the most pernicious."
One national study of programs that enforced mandates found "higher sanction rates were not associated with higher participation rates. Some observers contend that programs that do a good job of communicating expectations to recipients do not need to sanction as often."
The Human Resources Administration's own study found the sanctioned population more likely to be young and African American, with more children and with less education than the agency's average welfare recipients. This past May, HRA opened an Intensive Case Management Center (in pdf format) to "explain sanction policy and process to sanctioned clients, conduct more detailed assessments, and offer a full menu of appropriate services including job placement, health care/mental health evaluation, education and training."
Welfare clients have the right to request a fair hearing if they feel they have been unfairly sanctioned. "In New York City, there is a very high reversal rate," said Vicki Lens, an assistant professor at the Columbia University School Of Social Work, whose work often focuses on welfare and welfare reform. In 2002, the reversal rate was 80 percent. "This shows that errors have been made."
Many people who are sanctioned or denied benefits donÂąt even request fair hearings. "They donÂąt think itÂąs worth it," said Lens. "Or they think the system is biased against them. They depend on the agency for survival and so they donÂąt want to challenge it. Or they are isolated and feel afraid to do it on their own." Still, more people complain in New York City (6.8 percent) than elsewhere (one percent or less).
"Most people receiving federal welfare benefits are single mothers of young children," said Lens. "Some struggle with low wage jobs, others have disabilities or health problems, or children with disabilities that prevent them from working. They need compassion and support, not sanctions."
Â
You wouldn't know it from coverage of the mayoral campaign, but the outcome will make a difference to New York City residents who depend on social services, particularly public assistance, job training and placement services, food stamps, the Earned Income Tax Credit, and senior services.
While advocates for the poor view Michael Bloomberg as in many ways a welcome relief from Rudolph Giuliani, the current mayor has repeatedly vetoed anti-poverty measures passed by the City Council, and used the courts to thwart other such measures. He fought implementation of a law to create transitional jobs for welfare recipients moving into full-time work, and a law to provide more opportunities for welfare recipients to get education and training.
He also took legal advocates to court to prevent them from stationing staff in waiting rooms at welfare job centers, where they were available to clients needing help with city bureaucracy. Now an individual client may bring an advocate to a job center, but advocates cannot enter centers on their own and wait for clients to ask for help. The next mayor will have the power to change this rule and allow clients free access to legal help.
In August 2005, Legal Aid sued the city for failing to make necessary accommodations for welfare recipients with disabilities in its new WeCARE program, which seeks to enable them to work. Legal Aid also opposes the centralization of WeCARE services in three locations, increasing travel time for welfare applicants and recipients who have disabilities.
Although he has a school of public health named after him, Bloomberg has balked at expanding food aid that can help provide a healthy diet. Single, childless welfare recipients without disabilities can get food stamps for only three months if they do not participate in work or training activities. However, because New York City has high unemployment levels, the three-month limit could be waived, if the city requested it. The Bloomberg administration has refused to do so, in contrast to officials in most areas of the state that qualify for the exemption.
As Council Speaker, Gifford Miller led the Democrats in passing three bills to make it easier for people to apply for food stamps. The mayor vetoed them, and the Council overrode the vetoes. It is not clear how the Bloomberg administration will react to the override, now that it has announced it will use a newly awarded federal grant to develop an online application system to be used at welfare offices, food pantries, and soup kitchens. One of the vetoed bills calls for an online application system, and another requires applications to be made available at food pantries and soup kitchens.
The four leading Democratic candidates are all current or former City Council members, and have voted to add funding to the city's budget for food pantries and soup kitchens. Bloomberg, like preceding mayors, has cut these funds from the budget each year, requiring the council to bargain for their inclusion.
Anthony Weiner has expressed opposition to the city's requirement that food stamp applicants be fingerprinted. This was a Giuliani innovation continued by the Bloomberg administration.
After public assistance checks, the single largest benefit for impoverished New Yorkers is the Earned Income Tax Credit, which can be worth up to $6,000 for an eligible household. Bloomberg's administration has effectively publicized this benefit and helped people fill out the forms for it, increasing the number of households receiving checks.
During Gifford Miller's tenure as Speaker, the Council established a city addition to the federal tax credit. Miller has made this credit a centerpiece of his campaign, pledging to double it, and also seek a new tax credit for low and middle-income renters.
The welfare reform law of 1996 expired in 2002; Congress and President George W. Bush have been trying to pass a more stringent version to replace it ever since. Currently, only 40 percent of the city's welfare recipients fulfill federal work requirements; most versions of a new welfare law will mandate that 70 percent of recipients work, and that parents of young children double their work hours from 20 to 40 a week.
Bloomberg and the four major Democratic mayoral candidates all oppose increasing work requirements. The city would have to pay more for child care, and to find or create jobs for people with major barriers to work, such as disabilities, lack of skills and experience, homelessness, and prison records.
A report by the Community Service Society found that in 2003, only about half of the working-age African-American men in New York City had jobs. Several of the Democratic mayoral candidates have been inspired by that fact to address job issues beyond the welfare population.
Fernando Ferrer, former Bronx borough president, has attributed long-term unemployment among men and women of color to three factors: Lack of support for small businesses, lack of jobs in communities of color, and the failure of the school system to graduate students with the skills needed to work and/or go to college. He has criticized Bloomberg for concentrating on average test scores, at the expense of the students having the hardest time in school. Average test scores rise when these students drop out.
Ferrer's campaign has released a detailed plan to graduate 50,000 more students from high school in the next four years, and raise the city's graduation rates to the national average in eight years. Social services play a major role in the plan, which would give 100,000 more children after-school program services; offer mentoring and counseling to teenagers; provide more social workers, psychologists, and counselors for students and their families; and use family literacy programs to help children learn better while improving their parents' job prospects.
C. Virginia Fields, currently Manhattan borough president, has pledged to appoint a Deputy Mayor for Full Employment if she is elected mayor. She would work to develop more apprenticeship programs, and link the Department of Education to the City University of New York to "create new seamless paths of career training beginning in high school." She also proposes addressing unemployment through social services, such as "helping families at risk, expanding drug treatment options, better job training in jails."
Like Ferrer, she would focus school improvements on struggling students, and reducing the dropout rate.
Gifford Miller can point to an $18 million employment program he shepherded through the City Council, which is scheduled to start in September 2005. Reflecting the same priorities as those of Ferrer and Fields, the "Long Term Structural Unemployment Initiative" has three aspects: job training for ex-prisoners, school programs to prevent dropouts, and offering training and capital to entrepreneurs, particularly small ones, in communities of color.
Under Miller, the City Council passed a bill, signed into law by Bloomberg, mandating that city contractors employing a total of about 50,000 workers pay a living wage and provide health care coverage.
When Thomas Ognibene, the Conservative Party's candidate for mayor, addressed unemployment issues in the mayoral debate on poverty , he confined his recommendations to tactics already being tried by the One-Stop Career Centers set up by the city's Department of Small Business Services under Bloomberg. These were targeting training to industries needing workers, and encouraging unions to open their apprentice and job training program to more people.
Bloomberg has made progress in helping survivors of domestic violence. The city recently opened its first Family Justice Center, where legal services, benefits counseling, and specialized counseling for victims of domestic violence are all offered in the same place. The Police Department's Domestic Violence Response Teams focus on the two precincts with the highest incidences of domestic violence. Bloomberg signed a law that entitles survivors to emergency housing, with or without documentation of abuse.
The Fields campaign offers seniors an "Aging in Place" program, to be funded if she is elected mayor. The program would expand the availability of services needed for seniors to live independently in their homes, such as social work and mental heath services, nutrition counseling, and medical and nursing care.
Anthony Weiner focused on faith-based services for the elderly at an appearance at New York University in late July 2005 . He stated that "the charitable sector has learned to do much better than we in government have done," even though he believes religious institutions are hampered by red tape when setting up these programs. Weiner promised, if elected, he would appoint a non-profit "czar" to shepherd them through the process of getting regulatory waivers, locating real estate, and doing outreach to potential clients.
Under Miller's leadership, the City Council made the popular Senior Citizen Rent Increase Exemption available to nearly 1,000 more elderly renters next year, by raising the income level under which they qualify for the exemption. As its name suggests, this program exempts low-income seniors from rent increases; the increases are paid to the landlord from city funds.
Linda Ostreicher, a former budget analyst for the New York City Council, has been in charge of the Social Services topic page since November, 2001.Â
Housing is a top issue in the 2005 mayoral election for two main reasons:
First, the city has a record number of homeless people, about 35,000 people filling up city shelters on any given night, the greatest number since the Great Depression. That number is about 25 percent higher now than it was four years ago when Mayor Michael Bloomberg was sworn in. Second, by all accounts the city has an affordable housing crisis. Rents are increasing everywhere in the city, even in "rough" neighborhoods. While more housing is being built in the city, most of it is unregulated – the market sets the rents and that housing is doing very little to help address the affordable housing problem. Making matters worse, existing affordable housing is disappearing at a rapid rate.
Republican Mayor Michael Bloomberg and the four Democrats who are seeking to replace him are positioning themselves as proponents of affordable housing and opponents of using a costly shelter system to deal with homelessness. They support building more affordable housing and solutions that involve getting people out of shelters and into permanent housing. They also support preventing homelessness before it starts by providing social services to people before they face housing crises.
The mayor is running on his record. He turned his attention to homelessness about eight months ago, with a plan to reduce the record number of people in city shelters by two-thirds over five years. In 2002, he launched a five-year plan (in pdf format) to preserve and build 65,000 affordable apartments. If the plan is on track, the city could shortly announce that as many as 20,000 affordable apartments have been built or rehabilitated.
Advocates have given Bloomberg's record mixed reviews. While his housing program was welcomed as a start, it is not nearly enough, according to a critique by Housing First!, a broad and non-partisan coalition of groups pushing for more affordable housing in the city.
On homeless policies, Bloomberg got off to a good start when he took over from Rudolph Giuliani. Negotiations with advocates led to a suspension of litigation against the city for its homeless policies – litigation that has had courts overseeing the city's policies for over two decades.
Giuliani's "was such a bad record, it's the only way Bloomberg's looks good," said Patrick Markee of the Coalition for the Homeless.
But the negotiations have largely fallen apart. And the city's recent attempt (see below) to deny people shelter if it deems them ineligible probably marks the end of the conciliatory attitudes on both sides.
The litigation aside, Bloomberg's efforts on homelessness over the past year have notably included a new housing subsidy for people on welfare and the launching of the $12 million "HomeBase" program that has six community-based organizations working to prevent homelessness in six neighborhoods.
The housing subsidy was devised in the face of the city's loss of significant federal Section 8 subsidy, which helps about 120,000 poor households in the city pay their rent. It was better than nothing, some advocates said at the time. But since it actually came into use, it has infuriated many advocates. Among other things, the city is putting people in sub-standard apartments because the subsidy's housing standards are lower than for Section 8 apartments and doing little about landlords who seek side deals, including sexual favors, in return for accepting the subsidy.
Bloomberg should have fought for Section 8 rather than inventing a new subsidy that does not come close to Section 8's quality, advocates said. His challengers are harping on the mayor's conciliatory approach with his party in Washington, D.C., and Albany when it comes to housing issues.
The HomeBase program has drawn more support, but advocates said Bloomberg would get more praise for prevention efforts if they appeared sincere. For the past four years, he has sought to eliminate funding for legal services, which are much more effective at preventing evictions and homelessness than sending people for family mediation sessions.
"If he's serious about ending chronic homelessness, why does he keep zeroing out legal services?" said Larry Wood, director of advocacy at Godddard-Riverside Community Center and the president of the board of directors of my organization, the City-wide Task Force On Housing Court. "He keeps trying to eliminate anti-eviction programs. Something doesn't add up."
Many advocates consider some recent moves to be election year pandering, such as his publicly agreeing with city Comptroller William Thompson to ensure that about $120 million from Battery Park City revenues goes to a trust fund to build affordable housing.
Bloomberg has flip-flopped, too, on at least one critical housing issue, advocates said — the repeal of the Urstadt Law. That 1971 law effectively puts state legislators in Albany in control of the rent regulation laws affecting more than half of rental apartments in the city. All of the Democrats running support repeal of the Urstadt Law.
Previously, Bloomberg said he supported repealing the law. In written responses to advocates' questions for a candidates' forum he missed earlier this year, Bloomberg said that the law should not be repealed because the city could not afford to administer the rent regulation system that the state currently administers. That's a surprisingly weak excuse: The system is paid for by apartment registration fees paid by landlords. And if the state legislature is enacting legislation that is effectively eliminating affordable housing in the city, shouldn't the mayor want to wrest that power from them – no matter the cost?
Finally, housing advocates – and many others – are despairing at the rapid disappearance of rent regulated apartments. Since vacancy decontrol was enacted in 1997 as many as 200,000 rent stabilized apartments have disappeared. The decontrol provision allows landlords to get apartments out of rent stabilization if they rent for $2,000 or more upon becoming vacant.
"Bloomberg seems perfectly content to preside over the demise of the rent regulation system," said Michael McKee of Tenants and Neighbors, a statewide tenants' coalition. "I don't think he has any inkling of how important it is to the future of the city. And his failure to fight to reverse the phase-out of rent regulation is going to prove deadly to the city."
Two of Bloomberg's opponents, Manhattan Borough President C. Virginia Fields and former Bronx Borough President Fernando Ferrer, have proposed aggressive plans to build and preserve affordable housing. Ferrer's is the most ambitious: He would dedicate $8.5 billion over ten years to build and preserve 167,000 affordable apartments. Fields proposes building 10,000 new apartments and preserving 8,000 more annually. Both candidates would use rezoning plans to encourage developers to build more affordable housing.
City Council Speaker Gifford Miller, a favorite of housing advocates because of his record as speaker, came slowly to support a new lead paint bill, but once he did he got virtually the entire City Council to support it and the council easily overrode Bloomberg's veto. He also aggressively pushed the type of rezoning legislation Fields and Ferrer call for in their plans. The rezoning plans for Hudson Yards in Manhattan and Williamsburg-Green Point in Brooklyn will include about 20 percent affordable housing.
Miller's proposal to give renters a tax credit stands out as a unique plan to address affordability for people who have seen their rent go up while their wages have not kept pace. The Rent Guidelines Board, more or less under the mayor's control, has given landlords significant increases every year since Bloomberg took office. A household earning $100,000 or less and paying a $1,000 monthly rent would get a $360 tax credit, under Miller's plan. Poorer households that receive the Earned Income Tax Credit would get more.
On homeless policies, the Democrats vying for mayor would likely continue some of the city's efforts, but in a more constructive fashion. Advocates would likely be more involved, for example, in designing the programs. Miller has said he supports using community-based organizations to implement homeless prevention programs. None of the candidates supports using city shelters to deal with homelessness – it's simply too expensive.
The prospects of settling the litigation that has required court oversight of the city's homeless policies would be greater, too. Advocates would be more likely to sit down with a mayor who does not caricature homeless people as negatively as Bloomberg has, one said.
According to a poll of the audience, U.S. Representative Anthony Weiner gave good answers to questions at an April candidates' forum on housing, but many housing advocates consider him a traitor because of his critical vote supporting luxury decontrol as a council member in 1994. Luxury decontrol has led to the loss of as many as 200,000 rent regulated apartments in the city since 1997 , from the city's most important stock of affordable housing: More than half of the rental apartments in the city are rent stabilized.
The records of Fields and Ferrer, too, make some housing advocates nervous about how either would approach housing issues as mayor.
As Manhattan Borough President, Fields has disappointed advocates by failing to block development efforts in Manhattan that do not include provisions for affordable housing. For instance, she supported the city's proposal for West Chelsea, submitting recommendations that advocates said would simply be ignored. A 'No' vote would have forced the city to include plans for more affordable housing, advocates said.
While Ferrer presided over significant construction of affordable housing in the South Bronx, he supported a change to the Real Property Law that many thought at the time would lead to more evictions: the Rent Deposit law that requires tenants to deposit the rent they allegedly owe with the court during housing court proceedings. The rent deposit law did not lead to as many evictions as advocates feared, mainly because most landlords have not aggressively pursued forcing tenants to deposit the money. But Ferrer's support showed he had a soft spot for the landlords lobby.
Housing advocates said a Bloomberg second term would test his commitment to the housing issues he now professes to support. But they expressed satisfaction that all of the candidates are being pressed on housing issues.
But, advocate Larry Wood added, "we have to follow up."
Joe Lamport is the assistant director of the City-Wide Task Force on Housing Court, a coalition of community housing organizations. Â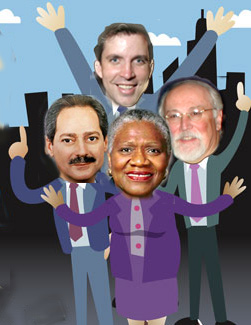 On July 28, 2005, five candidates for mayor debated issues of poverty, gentrification, education, and the proposed basketball arena in Brooklyn at a forum at Medgar Evers College. The debate was sponsored by the Community Service Society, which dubbed the event "The People's Debate," hoping that the candidates would address concerns related to the two million New Yorkers who live below the federal poverty level. Mayor Michael Bloomberg was invited, but did not attend. U.S. Rep. Anthony Weiner was in Washington and did not attend. Reporters from NY1, Amsterdam News, El Diario, and NY1 Noticias asked the candidates questions. The following is an edited transcript of the debate.


Fernando Ferrer: I want to thank the Community Service Society as well for documenting the struggle of so many families struggling just to be able to survive in New York. The mayor's multi-million dollar commercials on TV won't talk about that. The 60 percent who don't have health care; or the third of them who rely on food stamps and food pantries just to be able to eat. And this mayor isn't making it any easier for them. Twenty-five percent who pay half their income and rent. They're the reason I'm running. They're the reason I'm here tonight.
I'm here to talk about a city that treats poor people as if they were invisible and [ignores] the middle class…out of existence. This is by a mayor who just doesn't get it. Well I do. I know what happens when a family gets that envelope from Con Ed with the red printing on it that says your gas and electric are about to turn off. I know what happens when you have to bang on the pipes to get heat and hot water; or your phone service goes off; or you get that dispossessed taped to the door by a marshal telling you that you and your family are about to be homeless. Well I think we've got to do better than that. I think we've got to do better than that especially in a city that's the world capital of finance, commerce and communications. We got to do that with a mayor who not only understands that he has to make a difference, but understands the difference itself. That's the mayor I want to be with your help.
C. Virginia Fields: One of six youth out of school aren't employed; Nearly 50 percent of high school students dropping out before graduation; Only 10 percent of black and Hispanic students receiving regents diplomas; 40 percent of Black and Hispanic men unemployed. One out of five low-income New Yorkers paying 50 percent or more of their income for rent; and two million New Yorkers are potentially going hungry every day. These are startling statistics, but they represent real lives of people; people who live right here in New York City. And if we fail to address these issues, we fail to plan for a future of hope and prosperity for all New Yorkers. And I'm running for mayor because I will improve the conditions in these areas. I will be a mayor for all New Yorkers. And it is about leadership. It is about focusing on the priorities that affect all of our lives.
Gifford Miller: Thank you Dominic and thank you to Community Service Society for hosting this debate. New York City is the home I've called my home my entire life. And my wife and I wouldn't dream of raising our two sons anywhere else. And for the last four years, I've had the privilege of being speaker of the New York City Council, standing up to this Republican mayor time and time again and winning on behalf of New York's families. I made sure we kept our promise to our kids by stopping devastating cuts to the schools. We kept our promise to our children by stopping day care cuts, and to seniors by stopping the mayor from closing senior centers, and libraries, and so many other services that make this city great. We've gotten results, but there is much more to do in a city where 550,000 children are failing in our schools.
Mike Bloomberg may be satisfied with New York City the way it is but I know we can do better. And I have specific plans to take New York in a new direction by reducing class sizes in our schools; not waiting to fix and secure our subways; making sure housing is affordable for all New Yorkers, and finally getting our fair share from Albany and Washington. I know we can have a better city and I have a plan to get us there. And let me just tell you this; for every time you try to do something worth doing in this city or anywhere else there's 2,500 people who'll tell you it can't be done, I've never listened to those voices and I'm not going to start now, and I hope you'll join me in building a better city.
Thomas Ognibene: My name's Thomas Ognibene, and I'm the former Republican leader of the New York City Council and a councilman for ten years in the City of New York. Obviously a Republican and I'm also running on the Conservative party line and as a matter of fact, I'm the only person up here that's actually definitely on the ballot all the way through the November election. I also have a challenger in the Republican primary, Mr. Bloomberg and he's running as a Republican, although I don't believe that he's a Republican and I hope my fellow colleagues don't believe that.
Fernando Ferrer: No, I think he's a Republican.
C. Virginia Fields: I know he's a Republican
Gifford Miller: He's not a particularly good one.
Thomas Ognibene: The interesting thing is that I've also been a lifelong New Yorker. The only time I spent away from New York were the three years of military service from 1967 to 1970. When I was growing up, New York, I think was a friendlier town, a friendlier place to be. There was more opportunity. There was less hostility. There was less aggravation between ethnic and racial groups. We seemed to be able to all get along. There were a lot of improvements that had to be made but I was sad when I saw our city deteriorate in the 70's and 80's.
And many people may not agree with me, but I thought we had a rejuvenation and a renaissance in the 1990s. And the reason we did is that we took an aggressive approach to restructuring New York City. We attacked crime in our most vulnerable neighborhoods; we reduced welfare dependency and we created opportunity for everyone. And that's why I'm running for mayor. Because I believe that while some people may be more qualified through training to do things that others may not, there is no one in the city of New York that is better than anyone else. As a city, we have to work together; we have to understand each other; and we have to work for the common goals. All the communities have to pitch in. If there are problems, they're not only just related to government or government's failure. Sometimes they're our own failure; our failure to take care of our families and communities. So I encourage you to join me in my quest for mayor of the City of New York.

Question – Jamal Watson, Amsterdam News: For at least a decade employment rates for African-American males have been falling behind their white and Hispanic counterparts. Why do you think this is happening and what steps would you as mayor take to reverse this trend?
C. Virginia Fields: There are a number of factors we know that have contributed to this problem; some related to the loss of low-skilled jobs that had been previously occupied by many of the persons in this population; some related to discriminatory practices by employers; some related to criminal records as well as a failed school system. So I think that what we must do is in terms of the age group that we're talking about, – job-training programs are incredibly important.
In addition to that placement, we must make sure that there is follow up once the job training has been completed. There has to be job training relevant to the labor market. Not at the end of a process no one is able to find a job. Apprenticeship opportunities not only in construction but other trade industries and occupations. Also, I think it is important that the city at this time make a real commitment to put these men back to work through large-scale development projects.
I have in the past called for, especially in lower Manhattan to be used as a public works program so that we can invest and help this population move in terms of working. And how I would address it specifically as mayor I have said I would make this a number one priority in my office; I would create a new position: Deputy Mayor for Full Employment. And they would have the responsibility of coordinating all of the relevant entities that are necessary in order to collaborate and make sure that we keep this moving forward.
Gifford Miller: First of all, let me say that the Community Service Society has done a tremendous service to this city by exposing the extraordinary structural unemployment in communities of color and the disparities between the actual non-employment level and the federal unemployment level that this mayor likes to cite when he's running around declaring victory on jobs in this city. And the difference of course is because when you see 39 percent of African American men in this city who don't have jobs and the unemployment rate at the federal level of 6 percent – what that means is you're not unemployed according to the federal government, unless the federal government says you're actively looking for a job according to their definition. So people who've given up hope; people who don't feel that they have the skills or the opportunity to access the job market, they don't get counted by the federal government; but they're here, and they're hopeless and we have to give them hope. And how do we do it?
After the Community Service Society announced its report what do we get from this mayor? Total silence. He has never addressed this crisis at all out loud. What did we do in the council? We created the "Long Term Structural Unemployment Initiative" — and this past year almost $20 million that we're putting towards attacking the root causes of these problems.
First and foremost, job training for the formerly incarcerated. It's a huge crisis. We let people come out of jail; we don't give them any opportunity to or chance at a better job and of course they've lost hope.
Secondly, programs to keep kids in school.
And third access to capital and training for entrepreneurs in communities of color. We have to create jobs in every community in this city and we ought to do it more broadly. I have a plan to cut small business taxes across this city. We have a real challenge. But this is one of the great moral challenges that faces this city today. And we ought to have a mayor that's willing to talk about it and act on it.
Thomas Ognibene: I think the most important thing that can happen to an individual during their life, especially their adult life, is that you get a job. All other problems seem to go away when you're working. You can pay your bills; you can feed your family; you can provide for safety and security in a home; that's the most important thing you can do in our society. And it's unfortunate that there are so many that don't have those jobs.
And I often wonder what are the root causes of it. And it's difficult to ascertain, but I think one of the things we do, as a society is fail when we provide an education, particularly in high school. I don't think we have enough directed training, vocational training identifying the industries in which jobs are available. Making the kinds of training that would allow someone to go right [out of] high school and move into a job environment and be able to function. We don't do enough to train people for jobs. We give them an education, it's a basic education; sometimes it simply doesn't work. It's not always the fault of the school system. When people come out of high school in the city of New York, I don't think they're prepared to go into the job market.
I can tell you that as a trustee for 25 years at Christ the King High School we have a very diverse population. And we have programs in the high school, not only the normal ones, but we have things like the Microsoft Academy, which is the only high school that has this in New York City. And we train kids for specific jobs in that industry. And they're trained by Microsoft, and they get a certificate. And then when they get out we've had kids who have gotten out of high school and gotten jobs making between $50,000 and $75,000 dollars a year.
We have to identify the industries where jobs are available, bring them to the city of New York, and provide them with the kind of environment where training can take place so people can move into those jobs. That's our most important criteria. And we ought to work with a lot of the labor unions. Many of the labor unions, as a matter of fact all of them, really have apprentice and job training available through the unions and they ought to make that available to a broader range of people because I think that that's the most important thing they can do.
Fernando Ferrer: There are two reasons why men of color are among the highest unemployed in this or any other city. First, is that our school system regularly fails them. More than half drop out not only in high school but in middle school as well. Only 38 percent graduate on time; under a third of African Americans; under a third Latino don't graduate on time. Let me tell you; a job gives someone the ability to pay the bills, to feed their kids. And in that sense the city has failed them not only in education but also in opening the doors wide of the economic engine of this city to allow small business in. To do business with this city with other larger businesses.
The lack of jobs in our community is the second reason. That's why I proposed not looking at the school system in terms of 4th and 5th grade reading scores rising temporarily, but attacking the problem right where we should be doing the measuring of the effectiveness of our school system. How many kids we graduate, and graduating more kids so that they have the tools they need to get a skilled job or to go on to a higher education. And then using the 30 percent presence in this city of women and minority owned business to do business with this city and with other business. A mayor who is committed to that, a mayor who is committed to joint ventures, a mayor who is committed to unleashing the energy of small business and create more jobs in our community would almost single-handedly bring down the scandalously high level of unemployment among men of color in our communities.

Question – Evelyn Hernandez of El Diario: In neighborhoods from Brooklyn to the Bronx, communities of color are experiencing widespread gentrification. Latinos, for example, are being pushed out of long time Latino neighborhoods such as the lower East Side, East Harlem, Washington Heights and Sunset Park. How would you remedy long time residents being pushed out to make room for newcomers who can afford to pay more?
Gifford Miller: This is a very serious problem all over the city, not just in the neighborhoods that you mentioned, but also in many others across this city. And the answer is affordable housing. Affordable housing has to be one of the top priorities of any of us who are elected to be the next mayor for the city of New York. And we have to do three things in order to address the affordable housing.
First, we have to preserve what affordable housing we have in those communities. This is a mayor who has made no commitment to preserve that affordable housing; who has in fact vetoed legislation which we sent him – which we will override at the next meeting in August – legislation to preserve Mitchell Lama and Section 8 programs, which were two of the most successful affordable housing programs this country has ever seen and which preserve affordable housing in all of those communities and across the city.
Second, we have to devote more money to affordable housing; and I have done this as speaker of the City Council; tens of millions of dollars to create more affordable housing units. But also we have to go beyond that, and as mayor I will certainly do that; tapping into the Battery Park City trust fund among other places to develop more money towards the creation of more affordable housing.
And third, we have to use tools like inclusionary zoning that when we're re-imagining communities like Williamsburg-Greenpoint for example where we were able to set an unprecedented standard of almost 35 percent of affordable housing units being created in those rezonings; about 3,500 units of affordable housing. When we're doing re-zonings and we're re-imagining our communities, we have to ensure that we're imagining them in a way that reflects the needs of low income and moderate income people in this city by requiring that affordable housing be part of the future planning of our city.
Evelyn Hernandez: Mr. Miller, the mayor says that the City Council legislation is illegal and that's why he vetoed it. What's your response to that?
Gifford Miller: He's wrong. Anytime he doesn't like anything he vetoes it, goes to court and spends years fighting — like access to training and benefits for people coming off welfare and public assistance — many of our bills, which are all legal, he goes to court and he uses all the resources of our court system to fight against the rights of New Yorkers instead of standing up and fighting for the rights of New Yorkers. Now, he ought to be in court fighting to protect people at Mitchell Lama, fighting to protect people in Section 8 because the people in this city need that from a mayor and they're not getting it.
Thomas Ognibene: I agree with Mr. Miller that the mayor likes to go to court to get rid of people he doesn't like.
But with the more serious issue: I know when I hear the word gentrification, and I understand the meaning of it, as you know as long as you have a free country over here and people can decide where they want to live and there's an unfortunate aspect that those that have a great deal of wealth somehow can push out those that don't seem to have that kind of opportunity. It didn't happen years ago; it's happening in the city now and its kind of unfortunate. One of the things we can do about it is to create affordable housing in partnership with the private industry, and I've always been in favor of that. Whether it's 80/20 housing or some reasonable adjustment of proportions, whether its 60/40 or 75/25; whatever fits the project and you can build it.
One of the examples was where the mayor wanted to put the West Side stadium. That land was much better suited for affordable housing and hopefully it goes for affordable housing because we're going to receive a better return on our investment as a city than would have been created from a Jets stadium, which we certainly didn't need in that area. So there are a lot of opportunities to have a blend of private investment and public incentive to create the kind of housing that the people in this city can afford. Now in my community in Middle Village, I can tell you that most of the middle age to elderly, including myself, can't really – or would have a tough time – affording the house that we're living in. And so I understand that and what's happening in this city.
…You get a mayor that wants to raise taxes and makes it more expensive to live in this city because his vision of New York City is the Manhattan skyline. He sees only the wealthy and he doesn't understand that in the boroughs there are hard working people that just want a place to be able to come home to, that their kids can grow up in safety, and I don't think he sees that.
So affordable housing to me – and people say Republicans aren't for that – I can tell you affordable housing — having a roof over your head and a secure place to live is a priority in my heart and it would be in my administration.
Fernando Ferrer: It's tough enough for a family to find in this city a place that's decent at a price that you can afford. It's even worse when you've found that place and you're just struggling to hold on, and you find yourself getting pushed out not only because of real-estate forces in your own neighborhood, but city policy itself. That's wrong.
Look, no one's got to tell me the importance of decent stable affordable housing as a foundation of a stable life. I've known that since I was a kid. It's apparent that this mayor simply doesn't understand what affordable housing means and apparently confuses multi-million dollar condos that he can afford with housing that the rest of New York can afford.
I had the pleasure of working with Mayor's Koch and Dinkins to develop 66,000 units of real affordable housing units in the Bronx. There's only one way to do it. Build it! Build it everywhere in this city. Make it truly affordable – and not 80/20 anymore, 60/40 at the minimum so that people can live in every community in New York decently and affordably.
C. Virginia Fields: Clearly, affordable housing is key to our ability to be able to keep people, to enable them to live in any community in this city they desire. So affordable housing speaks to subsidy. Yes let's use the Battery Park dollars as interest in that. During an election year the mayor finally discovered that those dollars are there. And I've been calling for the use of those dollars for the past eight years since I have been in the office as borough president. So let's start there and leverage other private investment.
But we also must provide other incentives for developers. Land. Affordable land. Instead of selling city-owned private property now at market rate price, which is what is happening in far too many of these communities, lets still sell it for one dollar and make it [possible] for developers to develop.
In addition to all of the things, we know what must happen to create affordable housing – we must also fight in Washington against a lot of the federal policies that are also affecting the ability of people to remain in these communities: Section 8, make sure that we are fighting to keep low-income tax credit so that affordable housing can be built. Let's make sure we fight against the privatization of New York City housing development. All of these are a part of making sure that people can remain in these communities and be a part of the vibrancy and growth.

Question – Bob Slade, KISS FM: Mr. Ognibene, several of the Democratic candidates for mayor have expressed a desire to fire Ray Kelly as police commissioner if elected mayor. What are your comments about a police commissioner who will support a policy of handcuffing seven-year old children and escort them out of school in handcuffs and say he saw nothing wrong with that policy? What's your reaction to that and would you fire the police commissioner if elected mayor.
Thomas Ognibene: I was once asked if I would commit to rehiring him. I said "no" at the time. That doesn't mean that if I were mayor I wouldn't interview Ray Kelly. My sense is that you shouldn't commit to re-hiring or hiring somebody before you become mayor of the city of New York. My sense is this about Ray Kelly. If you look around I think he's done an adequate job. The problem I have with Mr. Kelly and the mayor is that they say the statistics show that crime is down by 40 percent in the City of New York and yet when I talk to the police in different precincts they tell me that because of Compstat, that they regularly re-designate some of the crimes, so that sometimes burglaries become trespasses, misdemeanors, and thereby the numbers are reduced substantially and we don't really know. My wife picks up the paper every day and when she puts it down she looks at me and says what do you mean crime is down in the city of New York. I don't think it is. So I don't think Mr. Kelly has been effective as some people want to give him credit for.
Now, I don't know the incident, I read about it with regard to the children that were taken out of school in handcuffs. I know if a police officer can't control a seven-year old child without putting handcuffs on you've got to re-evaluate that police officer's ability to do his job. Now, I don't know what the circumstances are. I hope we're not getting to that state where the police have to handcuff seven-year old kids. And I think that that incident's kind of sad. I don't necessarily mean that I think the police are doing a bad job in the City of New York individually as police officers. I do know that the mayor is retrenching on doing effective crime enforcement. And let me tell you in every community, in communities of color, in my community, the one thing that made New York City livable is that we had strong police enforcement and we were willing to stand up as communities, and I think we have to continue to do that, otherwise we will lose control of our quality of life.
Bob Slade: Just a quick follow up on that seven-year old — just to clarify something on that case. This young child was said to be emotionally disturbed. We wanted to really know what the policy was; the police commissioner basically supports a policy of putting handcuffs on seven-year old children. Do you agree with that?
Thomas Ognibene: I just don't see as a policy that that's a good idea. There may be some rare instances where the child has to be restrained for the child's own safety. But I think you have to be very careful when you start restraining children. And I'd certainly re-evaluate that policy if I were mayor.
Fernando Ferrer: I've known Ray Kelly since the days he was David Dinkins' police commissioner and I happen to like him and what I have said in response to this question previously, is my inclination is to bring in my own people fresh people with a fresh perspective.
But let me talk about this case; I've addressed it before as well. I know Ray Kelly and I happen to like him but I find his endorsement of handcuffing a seven-year old child, emotionally disturbed or not, bewildering. But let me tell you why I do. One, I'd have to as Thomas Ognibene suggested, evaluate what the police did at the scene. But I'd also want to know what the school leaders were doing and have been doing for this child. There is more to this than has almost met the eye. And to indicate that the appropriate final act was to take this child out of school in cuffs. I'm sorry the only time the cuffs were put on me was in front of Police Plaza and I was a full-grown adult.
C. Virginia Fields: I cannot think of a situation where we should have a policy of handcuffing a seven-year old child. In a school, with adults, principals, administrators, teachers and police officers, we must be able to find a way to work with children whether they are having temper tantrums or emotionally distraught. But a policy that will give a police officer the right to handcuff a seven-year old child will be eliminated off of the books, day one of Mayor Fields. In working with discipline in schools, we know that there are many issues there. But I think that we should develop those programs and initiatives by working broadly with our principals, our parents, our teachers, and students, in terms of disciplinary policies.
I have said I would appoint my own police commissioner, because I think it is important that a mayor have a relationship with that person and that they should have the right to appoint their own police commissioner, and I certainly would do that. In recent days of course, I'm very concerned with some of the polices that are being implemented with respect to acts of terrorism. I think we've got to develop more of a comprehensive policy and not just simply checking bags. We need a much more comprehensive policy and I would hope that Commissioner Kelly would lead the way in making that happen.
Gifford Miller: Bob, you and I have talked about this incident before. One of the terrible tragedies of this incident is that this wasn't even the first time a police officer was summoned to address the emotional disturbance of this seven-year old. I think it was the third time. And obviously, when a seven-year old ends up in handcuffs there has been a complete breakdown in the policies and procedures in handling that child. And it's unacceptable and shouldn't happen.
What concerns me more broadly is the way this administration has approached unruly and violent behavior in our schools. The mayor's response has been to send police officers into 17 of our more than 1,360 schools, as if this was a problem that was only in 17 schools and not a broader problem than that. And also to send incredibly conflicting signals to the principals of our schools. Principals are supposed to be responsible for the safety of the schools. They should be. They should be held responsible. But they're not given the tools to do it. The safety agents don't report to them they report to the local police department. And they're told if they suspend too many kids, they'll lose their jobs. They're supposed to have zero tolerance, and then if they suspend too many kids, they'll lose their jobs.
This system is broken and it needs to be fixed. And we ought to fix the problem rather than keep throwing cops where the incidents are. And the answer is to make principals responsible, have safety agents properly trained; given a real career track, put responsible to the principal, set real zero tolerance and get social workers and others who are trying to deal with the disturbed seven-year olds there and don't wait for the third time to call a cop and put the child in handcuffs.

Question – Juan Manuel Benitez, NY1 Noticias: By now we all know about the random bag searches in subways, trains, buses. Some fear that this is going to be racial profiling. Can these searches be truly random, should they be truly random, and how would you do it differently in this particular case?
Fernando Ferrer: First of all, Manuel, the threat of an attack on our subway and bus system is not new. We've been talking about this in New York for a long time. Our wake up call was a report that subway crime spiked by 15 percent. And I happen to agree with the idea and with the evaluation that bag searches alone, random or not, are ridiculous. In combination with the things that the MTA and the mayor should have been doing up till now, surveillance cameras, how about putting the token booth agents back in the token booths; enough police underground and in our buses, so that they make this random bag check meaningful.
Let me say one other very important thing about it. Racial profiling has to be watched for all the time. When you have human beings interacting with other human beings, no amount of memos and directives and policies can prevent that kind of practice unless we take seriously two things. A law that we have on the books in this city which I'm proud to have helped draft in 2001 against racial profiling, and the United States Constitution which requires that we all be treated constitutionally; that there actually be randomness, that there be no racial profiling, and that all of our individual liberties are not only protected but safeguarded at all times.
C. Virginia Fields: Racial profiling will not prevent acts of terrorism, but comprehensive plans will. And simply by using random bag checks, as I [said at] a press conference earlier today, alone is not the answer. Yes, we must have a much more comprehensive plan and the fact that we do not have one, I think should be disturbing to every New Yorker here tonight and those who are watching.
When the mayor denounced the MTA recently for not spending more of the $600 million dollars that they have had for over a year for safety and security measures, it should not simply be a denouncement of the MTA. The mayor should have put forth a comprehensive plan for safety and security of our transit system. That goes to the heart of what we must be doing. It is about surveillance cameras; it is about the training of the transit workers; but it is also about making information available to the public; having evacuation plans: if any of you were in a situation would you know what to do. If any of us had to act quickly, what would we do? It is about public service announcements. These are very practical steps that can be done and we simply have not done them.
So to simply go to random bag checks, and now we hear it will be discontinued real soon is I think it was a reaction to what happened in London as opposed to putting forth a comprehensive plan that takes into consideration all of these factors. Gifford Miller: I'm in agreement with my colleagues about most of the points that have been discussed. First of all, racial profiling is unacceptable in this country, it's unacceptable in this state and it's unacceptable in the city. I'm proud of the fact that under my leadership, the City Council passed the first racial profiling ban in our city's history, making it not just a matter of policy, but illegal as a matter of law for any city agency to engage in any racial profiling whatsoever. We will not tolerate it from this police department or any other city agency of New York.
Secondly, I certainly feel strongly as well that long ago we should have had a more comprehensive plan for dealing with security in our subways. I laid one out months ago, in fact focusing on hiring another 1,000 police officers so that everyday in our subways and buses looks more like the few days after July 7th, as opposed to the few days before it when there was not the police presence necessary to secure our subways.
It's wrong for the mayor to leave safety of our subways and buses to a bunch of bureaucrats in the MTA who literally can't make the trains run on time as it is right now. And what's wrong is that he doesn't have to. He's forgotten that he's mayor of the City of New York. And he actually has four appointments to the MTA board, and he's partially responsible for the fact that the MTA hasn't spent the $600 million that we actually got from the federal government. We actually got money from the federal government, and then we didn't spend it. Normally we don't get money from the federal government, and we spend what we don't have. This is just wrong.
A comprehensive plan would involve surveillance cameras, 911 phones in every subway and tunnel, repeaters so that responders aren't playing in a game of telephone in order to relay responses, and modernization of our subway system so we actually know where all of our subways are, which we don't right now.
Thomas Ognibene: From a policing point of view and even from a security point of view searching a few bags of people going into the subway won't really help. And I don't think it was done because people thought it was going to help. I think it was a gesture that they were trying to create the illusion that there was some safety, or at least restore people's faith in the subway system after London.
Obviously I don't think it's a long-term policy and it's not going to solve anything. The long-term policy is what you're going to do to make sure you provide maximum safety in the subways. My friends, I ride the subways every day, that's how I travel, and from what I see there's probably no way that we could totally secure our subway system. What we can do though, is to take as much information that we can about how to do these type of security operations and make sure that the MTA, in conjunction with the police department, begins to employ them.
Safety on the subway is a big issue. You take away safety on the subway, people aren't going to ride it… Unfortunately, if terrorists believe that we're protecting our subways, they will find some other area in which they're going to do their dirty deeds, so it's a difficult task. But I think that the searching of the bags was not something that terribly disturbed me, because I understand why he was doing it – as just a quick knee-jerk reaction to try to restore some faith in the public in riding our public transportation system. It's not a panacea; it's not a good idea; it's not an overall solution. The important thing is now that people are sitting down hopefully and looking at ways to better secure the subway system. If there is a disaster, it will be monumental and I ride it every day, and like you and others, I hope and pray that this mayor is taking the steps he should. And I don't want to condemn him now, because I don't know if he's doing it, but hopefully he is taking the kind of steps to protect our subway system because I can tell you, it's vulnerable; and bag and pouch searches are not the answer.

Question – Dominic Carter, NY1: As you know, [in] all of the latest polls, Mr. Ferrer is in the 30 percent range, he might be able to avoid a runoff in the Democratic Primary, you've lost a little ground statistically, Mr. Miller has gained some ground he might have a possibility of making it into a runoff, and for Mr. Ognibene you're on the Republican side, so my question is a simple one. For the audience, they have to make a decision in about six weeks, you've spent a lot of time tonight talking about Mayor Bloomberg. What separates you from each other, and for you Mr. Ognibene, what separates you from the mayor?
C. Virginia Fields: That seems to be a favorite question that everyone likes to ask. I think the voters are going to be able to make that decision as they look at a number of issues. One of the things I talk about, is that we have very different backgrounds, our focus, my focus is related directly to the priorities that affect the daily lives of New Yorkers and I have talked about that. I talk about how I will work to ensure that small businesses get the kind of support they need to expand jobs and in communities and help to grow those communities economically. I talk about specific steps to make sure that we get the chronically unemployed back to work. I have made a commitment to establish goal oriented initiatives so that more minorities and women will get contracts from the city. So my focus I think has been on issues that affect our daily lives and the plans that I have put forward I find are very different from what I've heard my opponents talk about over the past few months in many of these debates in talking about those priorities and how I as a mayor would address them.
Dominic Carter: How do you explain that you have lost some ground and Mr. Miller has gained some ground?
C. Virginia Fields: You know I've always said, polls are a snapshot of activities at any point in time, and I am always happy when my numbers are up, but I accept the fact that they might change. But it does not, in any way, stop me from going out and making my case to the public, talking to voters, because for me that is what the campaign is all about. Talking to people about things that matter. And I will continue to do that as we go through the remaining period of this campaign. So that's how I approach it. And I don't try to explain it, Dominic, and I don't have to. All I have to do is keep working, and I will continue to do that.
Gifford Miller: Let me agree with Virginia. Every time I come on your show you ask me like six questions about polls and sometimes it's comfortable and sometimes it's not so comfortable for me, but I gotta tell you that when I go out on the streets, I don't get six questions about polls in 60 days because people aren't interested in polls they're interested in ideas. They're interested in what you're going to do to make their lives better. I think that the polls will take care of themselves as long as the candidates talk about their ideas and how to make their lives better. I think New Yorkers know we have a caretaker mayor who hasn't messed the city up, but isn't tackling the tough problems that are facing our city, whether it's education (he doesn't have a positive plan to fix it), whether it's jobs (the Olympics were always a prayer and it didn't get answered and it wasn't a real plan in the first place). What they're looking for out of us is what are our ideas, what are we proposing to do, and they want to know what we've done. And I am going on my proven record of accomplishment. I have spent the last four years as Speaker of the City Council fighting to restore a billion dollars for example earlier this year to be sure we're building the schools that we need for our kids. Fighting to make sure that we address affordable housing and have specific plans.
Dominic Carter: But Mr. Miller what separates you from the other Democrats on stage?
Gifford Miller: I think that that's a decision for other people to make. I'm talking about myself, I'm not spending my time talking about what the other people on the stage are doing. I'm talking about what my vision is and what my record is. And what everyone wants out of a Democratic Primary is for us to spend all of our time – and its certainly what NY1 wants, and lots of the other press, they love it when we spend our time sniping at each other – but I don't think that's what voters want. Voters want to know what have I done and what am I going to do. And I'll tell you this: When I'm the Democratic nominee, I'm going to present a clear alternative to a mayor who doesn't know where to take the city in the next four years. I do. I know what I can do better. That's the message I'm out there talking about.
Thomas Ognibene: I guess the thing that differentiates me from the mayor the most is that he's got $6 billion dollars and I don't. Besides that, I'm 6'3 and good looking and he's not.
But the fundamental difference is that I'm running because I believe in my party, I believe in what we accomplished in the 1990's in New York City. And while there may be people that have disagreed with me, people that know me know that when I stand for something I stand for it truly; my word is my bond. I believe in principle. And I don't think that this mayor does.
I think he thinks that the Republican Party and the people of this city are for sale. And I think ultimately he wants to destroy it. He demonstrates no moral courage. And the perfect example of that is I've gone to many of these forums, he's the mayor of the City of New York who can answer every question that these people want to ask — and he's not sitting here. And that annoys me more than anything.
When I come to a forum, and I'm ashamed too that the press in this city let him get away with that. And they shouldn't. He's the chief executive officer, he's the one that needs to answer questions and he's never here to answer a question. He likes to define himself by sending out these glossy brochures like this one he sent to my house. It's four pages, telling us what he's done. "Promises Made, Promises Kept" it reads. He forgot about the one not to raise taxes in my community, because that isn't promises kept. And I don't think he's kept any promises. Maybe he's had a charade and he's fooled people, but he hasn't been an honorable mayor of the City of New York. And if he doesn't have the guts to come here, he doesn't have the guts to run the City of New York. And I do!
Fernando Ferrer: Let me first say that I agree whole-heartedly with Thomas Ognibene. Let me be very serious about this, my Democratic colleagues, and my Republican one as well, all bring something special to this discussion. For myself, here's what I bring.
When I talk about education it's from the vantage point of a kid who grew up in Hunts Point. If not for a good education, someone else would be answering this question, not me. When I talk about after school programs, it's because I know the power of it. It took me off a tough street and gave me the opportunity to serve my city as a councilman and as a borough president. When I talk about affordable housing, I know the thrill of banging on the pipe and not getting heat and hot water and learning how to take a very quick shower in the morning. And that's why as borough president I worked to develop housing, 66,000 units of housing. And that's why as borough president I worked with Bill Clinton in our Bronx Empowerment Zone to create 38,000 jobs in our borough. That's why I've always understood public service. To get it and to make a difference in the lives of the people that put me there. That's why I'm running for mayor.

Question – Max Decir, student at Medgar Evers College: Given the high unemployment in black and Latino communities particularly for black males, a college degree is a crucial passport to today's job market. As mayor what will you do to increase access to higher education, financial aid, job opportunities and to support the important work of Medgar Evers College?
Gifford Miller: Let me tell you first what I've done. Over the last four years as speaker of the City Council, I have allocated millions of dollars to Medgar Evers College because I believe in the mission of this extraordinary special place, and I've seen first hand the lives that are changed the moment someone walks through those doors. Secondly, more broadly, I have strongly supported City University of New York. CUNY is one of the greatest treasures that any city has ever had. CUNY changes peoples lives; it lifts people up; it broadens horizons; it creates economic development; it's one of the best investments that anyone has ever made. And this mayor during tough times, and even since times have started to improve, has proposed to cut CUNY funds particularly for the Vallone merit scholarships that make it possible for thousands and thousands of young people to be able to afford a college education. The moment that they graduate, they are earning more money and paying more taxes and it is one of the best investments that we can make. So over the last four years repeatedly I've fought off the cuts that the mayor proposed – in fact restored it just this last year along with my colleagues on the council – support for initiatives here at Medgar Evers College. I am completely committed to this because I believe that CUNY and higher education is at the heart of any solution for New Yorkers. As mayor of the City of New York I will continue that record of support for higher education and expand it.
Thomas Ognibene: I'm glad you asked that question. One of the duties that I have enjoyed in the last 25 years is as a trustee of Christ the King High School in Middle Village. And we've worked hard to raise the standards. It's a wonderful school and people come there to learn in a safe environment. This year our graduating class received over $8 million in scholarships, over 95 percent go on to college. And it's a very diverse school. So everybody has the capacity to learn.
As part of a Republican administration in the 1990's, we were the ones that kind of forced the CUNY system to improve its standards – it was too much remediation and people said that we're hurting the minority communities. And it turns out that with the higher standards, the students from minority communities are doing even better. And that's what we like to see.
I have a tremendous belief in the City University of New York system. I was a senior fellow at Baruch College. I'm proud to see the kids from this school are going into CUNY. Right now some of the best teachers coming into the public system are coming out of the City University and we're proud of that and the changes that we made. I absolutely pledge myself to that.
But I also want to pledge myself to the high schools because there are some kids that aren't going to go on to college. They aren't going to go on and necessarily get their degrees. But they need to have the skills to go out and get good jobs. And that's just as important. I have a daughter who is a vet who went to Cornell at the top of her class. I have a son who's at what they call a power mechanic. My father was a painter and my mother was a schoolteacher. So I know there has to be jobs and you have to feel like you are important, contributing and earning money, and if you do that all the other problems will pale in significance.
Fernando Ferrer: You're asking this question to a guy who went to college on not one, but two scholarships simply because we had no money. Money is a barrier that is growing ever larger for young people and young people of color throughout this city to enter into City University. Given the fact that only 18 percent of graduates have a Regents diploma, too few are going to higher education. Even fewer are getting skilled jobs. It's awful when this mayor actually cuts funding for City University and supports a governor who cuts a tuition assistance program for City University as well. Let's be clear.
At least for myself, I was raised this way: you pass through that door you hold that door open for someone else to pass through. This mayor and this governor have appointed people to the City University board, who themselves went to City University when tuition was for free. Their attitude is: "I got mine, you go figure out how you get yours." The mayor of this city has to be committed not only to providing funding to lowering those economic barriers to get into City University but to supporting somebody for governor who will do exactly the same on the state level.
C. Virginia Fields: As a City Council member, I actively fought to make sure that we funded CUNY at a level so that more students could attend and be able to attend. And I'm very pleased about that. And that of course provided opportunities for more students here at Medgar Evers College also. As president of the borough of Manhattan, I continue to do that, because I too know the value of getting the aid to be able to go on to college. I too understand that without that, it will make a difference in the lives of so many young people of color; they simply will not be able to do that. As a mayor, using my voice at the state level to make sure that the aid through the tap program is continued, but using my position as mayor to increase funding at all of our CUNY colleges because of what it means to the young people who go there.
Also to make sure that we provide opportunities for jobs whether it is working at the college or other internships so that money can be made to finance education. Without an education it goes back to something that we've been talking about all along, and that is having a place where you can afford to not only take care of yourself, but to be able to take care of your family to be able to get a good job and without a good education that is becoming almost impossible to do. And as a mayor I will be very focused on that and ensuring that I fight to help CUNY students to stay in school.

Question – Jamal Watson, Amsterdam News: As you know, the U.S. Supreme Court recently gave the discretion to local governments to use eminent domain to acquire property for public use. Some, however, are calling for a moratorium on the use of eminent domain fearing that the law can be used to force individuals from their homes to build stadiums and arenas. Would you support a moratorium on the use of eminent domain in New York City?
Thomas Ognibene: The worst decision ever made by the Supreme Court of the United States was the eminent domain decision allowing the taking of private property to be…then turned over for private property. The concept of eminent domain is that you have a general public use, which benefits everybody. It's an unpleasant task, but we have to do it to build highways and roads, and other things of importance. And the people have to be justly compensated.
The idea – the convoluted reasoning – that you can take somebody's private property, then turn it over to a [private] developer and then say the taxes that he's going to pay are for the public's benefit is ludicrous. On that decision alone, it justifies changing some of the members of the Supreme Court, so we can look at that decision again. I'm telling you it's the worst decision, and it's a terrible thing for the people of not only this city, but throughout the United States of America. People who are going to be grabbed out of their homes so people can put up these malls that serve no value and no purpose, that are just disrupting the quality of life.
And by the way, it's not just the Supreme Court, our mayor has to take some blame for this because I know the biggest complaint when I go into these communities is overdevelopment. They're taking away these small residential homes and infilling three, four, five and six family homes. You have no room to send kids to schools. You have no room to park. There's no more quality of life. This has to stop. We are a residential city. We have residential communities and they have to be preserved not only from the Supreme Court, but from Michael Bloomberg too.
Jamal Watson: Can I have a follow up? Do you support the construction of the arena stadium in Brooklyn for the New Jersey Nets?
Thomas Ognibene: No, I don't think it's necessary at all and I think you can find a much more appropriate place. And I just wanted to just bring this up – when the mayor wanted to build a West Side Stadium, there was plenty of room in Queens County and he didn't want to do it. And he said, "Well you know, we can't get the same amount of money for luxury boxes." Well what do luxury boxes have to do with the Olympics? Nothing. Queens County was the appropriate place. The worst part was, when he finally decided to do it after being dragged kicking and screaming, the newspapers out there gave him credit for doing it and that's a disgrace. Stand up to the mayor and say he was wrong. You can say the mayor was wrong in the newspapers. Don't be afraid of the mayor.
Fernando Ferrer: I presume the question you are asking is not really eminent domain it's the Atlantic Yards.
Jamal Watson: It's a combination of both.
Fernando Ferrer: Well then let me let me answer your question up front about Atlantic Yards. I happen to like 50 percent affordable housing. I happen to like that, and I've said that before. You can't be for affordable housing and not find that powerful. I happen to like the idea of a "community benefits agreement" that if this mayor were serious about in this entire city, with the stroke of a pen we'd bring down unemployment.
I am troubled, however, with the lack of a public process here, the lack of transparency. I am troubled by the fact that we are still not clear about what the MTA will require as fair market value for the Atlantic Yards. It is precisely the same concern I had for the Hudson Yards, and I'm waiting and watching now that the MTA has apparently designated a developer to see if they will sell out or try to sell out the straphangers of New York City yet again.
C. Virginia Fields: I too was disappointed with the Supreme Court's decision. For years, I have seen how eminent domain has been used to deny people the right to remain on their property, to be able to develop their property, and in fact stealing their property. So I believe that the city should be allowed to make the decision on a case-by-case basis, and in some cases eminent domain has been important to expand in areas but I am opposed to that decision.
With respect to the Nets arena, I of course believe too that the public debate and public review of our land use process is extremely important. And I was very disappointed that the project did not go under review. But I too very much am pleased about jobs, affordable housing, the "community benefit agreement," one which we are also trying to include as a part with negotiation with respect to Columbia University. I think it gives the community a real opportunity to be a part of developing the workforce rules related to large-scale projects. So because of so many of the benefits related to what I believe in, and what I have fought for, and what I like to see moving forward with these large scale developments. I too have supported the project.
Gifford Miller: Well let me disagree with my friend and colleague Mr. Ognibene. There have been worse Supreme Court decisions, but I think eminent domain is a process that can certainly be abused by government. The question is whether or not it is justifiable and if there is a significant public benefit, and government has to decide and unfortunately government at times does not make the right decision.
In the case of the Atlantic Yards. Look you can't create more affordable housing without more housing. This is a tough balance, but in the end, I think the Atlantic Yard proposal that the MTA is currently negotiating over is one that has a great deal of benefit, particularly the thousands of units of affordable housing and the jobs. I think it would be great if we could bring the Nets here. Clearly eminent domain should be used as circumspectly as possible, as little as possible. In the end, we should be trying to find a way to do this, but the MTA clearly needs to get the best price that it can.
Apparently now they are negotiating with Mr. Ratner. It needs to hold out until it gets the best price that it can for the subway and bus riders of this city.

Question – Evelyn Hernandez, El Diario: You have all alluded to the state of education in this city and this mayor has asked us to judge him based on his performance in the area of education. Yet the graduation rate in New York is only 38 percent and only 18 percent of students get Regents diplomas. The numbers are much lower among black and Latino youth. Only 9.8 percent of Latino students and 9.4 of black students receive a Regents diploma. As mayor what would you do, what programs would you put in place to address this crisis?
Fernando Ferrer: I'm glad you asked that question. One, we have to bring down the full $23 billion from the Campaign for Fiscal Equity lawsuit to give our kids in New York City – all 1.1 million of them – what the suburban systems give their kids.
And let me be very specific about what I propose in order to do that. Reducing class size by building more classrooms and more schools. Hiring good teachers in math, science, athletics, music, art, pre-k programs, and after-school programs. Focusing on the "Bermuda Triangle" for education in our system – middle schools.
We have to bring those scores up, because as you see the mayor pats himself on the back for increasing reading scores, only one year, coincidentally an election year, but middle school scores collapse. By high school, the place where we should really be evaluating the effectiveness of our school system, by high school more than half drop out and as you point out only 38 percent graduate on time. In fact, according to the same Harvard study, most major school systems across the country out-perform us. The national average out-performs us by a full 30 points. We've got to graduate 50,000 more kids and give them all the tools they need to be economically self-sufficient. We've got to bring our own graduation rate up to the national average because unless we do that, focusing on a few test score increases in one year won't do anything to explain to their parents why too many of our kids are being failed by our own public school system.
C. Virginia Fields: We saw how the mayor fought with a great deal of energy and passion for a stadium on the West Side of Manhattan. But we have not seen him do this same thing in fighting for more money from Albany in the Campaign for Fiscal Equity. I'd begin by making sure we will fight in Albany, lead the charge in Albany, a very public campaign involving citizens in order to get the money from Albany in order to do what we know is needed. Smaller class sizes, we need to build more schools, but also let's start with utilizing vacant school buildings wherever they exist within this city, and we still have some. Let's start utilizing and modernizing those buildings, smaller class sizes, mass interventions at the very early level. Recruitment, and retention of qualified teachers means we have to negotiate contracts and we have to pay teachers good salaries. Tutorial, technical, vocational training so that we can expand options for these students within these schools. All of this is what it takes in terms of increasing and making sure that our students have a fair chance and in terms of increasing graduation rates and other opportunities in the schools.
Gifford Miller: There are three things to address the crisis within our schools, and we do have a crisis when 550,000 kids are failing in our schools every day. 550,000 kids.
Number one – we need to lower class sizes. This is not rocket science. When there are fewer kids in the class, teachers can give more attention. You know I was in a 4th grade class the other day, 31 kids in the class, and you know what the teacher said to me? He said he prays for the flu. Because when the flu comes 8 or 9 kids are sick, and he feels like he's teaching instead of just maintaining order. Our mayor's class size plan ought to be better than the flu and I have a specific plan that would cancel a tax cut that's coming for people making more than $500,000 a year on January 2006. If we cancel that tax cut, we could lower class sizes to 17 kids in a class kindergarten through third grade, 20 kids in 4th and 5th grade, and 23 kids in 6th through 8th grade.
Number two – we have to approve our ability to attract and retain quality teachers. We have to pay teachers more to teach in low-performing, high-need schools. You know, right now 33 percent of the schools in our city produce 60 percent of the failure. We should start paying our teachers more so we don't keep putting our most junior teachers in our highest need schools.
And finally, universal after-school programs. We need universal after-school programs. Every child should get a quality after school program and get a 3rd meal. Four hundred thousand kids in this city go to bed hungry every day. That has to change. Under my mayoralty it will.
Thomas Ognibene: You know, my mom was a teacher and a school principal and my wife is a schoolteacher, and I said I spent 25 years as a trustee of a Catholic high school. And the problems that I see in many of our schools aren't just related to the school structures themselves or to the teachers. I think the teachers are excellent. I think the problems that we have, that I don't see at Christ the King High School because parents pay a lot of money to send their kids there. But when I travel around the city and go to other schools like Franklin K. Lane and Grover Cleveland, what I see is a lot of kids who seem to have lost their interest in learning and that's important.
If you're going to get real education, sure it would help to have the Campaign for Fiscal Equity money, but you're never going to see that. Believe me folks, you're never going to see that. The lawsuit was ineffective; it's not going to work.
C. Virginia Fields: We will see it.
Thomas Ognibene: You're never going to see it. The one thing you're going to get from me is the truth. And it sounds good, but the governor's leaving and he was the only one who was part of that lawsuit so nobody's going to be a part of that lawsuit.
C. Virginia Fields: That's why we're going to see it because he's leaving.
Thomas Ognibene: The important thing is that we get together with our children and the parents in our community, and we convince them that the way that you can change your status, the way you can succeed in America is to go to school, and to pay attention, to be disciplined and not disrupt other kids and to learn.

Question – Bob Slade, KISS FM: The Bloomberg administration says it's improving the numbers of people of color within the New York Police Department and the Fire Department. The fraternal organizations say that that is not true. If you were elected mayor, how would you go about improving the number of blacks and Latinos on the police department and the fire department?
Thomas Ognibene: I want to see everybody that is in this city become part of the employment force, particularly the uniform services. One of the things you want to do is just encourage people to come and look at the job. Work along with police officers and fire fighters, understand and see the job, and see if that's something that they want to do and if they want to do it, to encourage them. I don't know what incentives other than that you can give, but I'd like to see more people from different segments of the city participate in uniform services.
Fernando Ferrer: While the mayor patted himself on the back about the diversity of the latest police academy class, he neglected to mention that the middle management of our police department – the training ground for our chiefs, superchiefs, and even commissioners – is still woefully closed. People of color are woefully underrepresented in those ranks. Let's move to the fire department for a second. When I met with Mayor Bloomberg after his election, I showed him what happened to be the front page of the B section of the New York Times, a new class of probationary fire fighters. I said "Mr. Mayor, what's wrong with this picture?" This picture has few if any faces of color. We've got to open up pathways of opportunity, not only EMS and other ways to get into the fire department, but also do more aggressive recruiting at the very grassroots of every one of our communities to make sure they have the opportunity to become a firefighter if that's the dangerous and challenging job they want.
C. Virginia Fields: We need better recruitment, promotional opportunities, but I would also like to see a curriculum in our public schools that began to train young people to begin to move into the uniform services very early on.
Gifford Miller: Here's what I've done, and what I'll do. I've funded the CUNY cadet programs, which have been incredibly successful in getting people into both the police department [and, having put it back into the budget over the mayor's objection], into the fire department. We also need more money for recruitment. And let me just note, I don't know how we're going to be expected to recruit thousands of police officers with a starting salary of $25,000 a year, which puts a family on food stamps. So we're asking people to go put their lives on the line and then they're going to be getting food stamps to go feed their family. That's not going to happen. They ought to renegotiate that.

Fernando Ferrer: I want to thank you very much for hosting this debate right here at Medgar Evers College, right here in Brooklyn. This is one of the most important mayoral elections of our time because it's about choices. Mike Bloomberg has made his choices. He wasted 3 1/2 years of his time and our time chasing a West Side stadium and chasing the Olympic Games, confusing that with a real economic development and job creation program in every one of our neighborhoods. Mike Bloomberg has made his choices. It's our turn to make our choices. He says he understands what New York is – New York's a business. He looks at himself as the CEO of a $50 billion corporation. I look at New York as a city of 8.1 million people, each needing hopes, dreams and aspirations. Some have said, and I agree with them, they want a mayor to make the tough decisions. I think New York needs a mayor to give them hope. That's the kind of mayor I want to be and with your help I will be.
C. Virginia Fields: As I said in my opening statement, my campaign is about priorities, priorities that affect all of our daily lives. And as I listen to your concerns, there are issues of jobs, education, housing, and opening opportunities for more rather than a few. We need a mayor who cares. We need a mayor who will focus on creating these opportunities. And that is the kind of mayor that I will be. I understand it based on where I have come from. My vision is informed by my work, by my accomplishments, and by my experiences. And I would bring that to bear as a mayor representing all of the people in this great city but most importantly, opening up the opportunities.
Gifford Miller: I want to thank you for the opportunity to share with you my positive vision to make this city a better place and I want to say this. I know I'm not asking you for something small, I'm asking you for something big, the opportunity to be mayor of the City of New York, the best job in the entire world. A chance every moment of every day to change people's lives for the better and I promise you this: If you give me that chance, I won't let you down. I will never go to bed without being able to say to myself and to you, "today, I helped somebody's life a little better. I helped a child get an education; I helped somebody get a job." That's the kind of mayor I'm committed to being and I thank you for the opportunity to share this time with you.
Thomas Ognibene: I want to say thank you to everybody and especially the good people here because you took the time to come to this debate and to listen to the different issues and how people wanted to present solutions to it and that's what's important to America. We don't have to agree; what we have to do is take honorable positions and defend them. It's only those that refuse to debate, refuse to rise up to a challenge, and try to shut out those who say things differently than they do – those are the people we have to be suspect of in this society. And I'm running for mayor because I believe there are people who need to be heard and I want to be their voice.
Â
There are more than 600,000 children in New York City living in single-parent households. Nearly all have a second living parent, who is legally responsible for their upkeep until they turn 21. If all children were receiving support from both parents, fewer would live in poverty and need welfare or subsidized child care.
In recent years, both New York State and New York City have offered to families for free, or at low cost, help in collecting child support payments from an absentee parent who has not been meeting his or her (mostly his) legal obligation. The agencies help in various ways, even providing assistance in establishing paternity for children born to unmarried parents.
An entire system of child support enforcement has been built up that seems hard to beat. If a man named in a child support case denies being the father, he may have to go to court and take a DNA test. If it shows he's the father, he will be ordered to pay the child support (and also for the DNA tests). If he doesn't appear in court, he can be declared the father through a default judgment. If he leaves the state, once the total owed reaches $5,000 or a year has gone by since he paid support, he can be charged with a federal crime. Deductions can also be made automatically from his paycheck or unemployment checks, and the government can seize an income tax refund, bank account, car, or lottery winnings. As a penalty for owing child support, the government can suspend a driver's license, refuse to grant a passport, or let credit bureaus know about the unpaid debt.
But for all that, enforcement has yielded mixed results. The New York State Division of Child Support Enforcement boasts of the $1.3 billion in child support collected each year (more than double what was collected a decade ago). But in 2003 almost $2 billion in court-ordered child support went unpaid in New York State. And the average amount of child support that was actually paid in 2001 was about 60 percent of the amount awarded, according to the United States Census Bureau.
In New York City, an audit (in pdf format) this month by the City Comptroller estimates that $10.6 million in support payments for city children are owed by non-custodial parents that the Sheriff's Office failed to track down.
The child support enforcement system works differently for single parents on public assistance. Unlike other single custodial parents, for whom the service is voluntary, welfare mothers are required to cooperate with the government's efforts, with any money collected winding up going to the government, to pay it back for the cost of public assistance.
Now, New York City is preparing to make it mandatory as well for the more than 30,000 working families who do not get public benefits, but qualify for child care subsidies because they earn less than double the poverty level. In 2005, a single mother with one child is eligible for subsidized day care if she earns less than $19,040 a year.
The rules will work the way they already do in other parts of New York State: The single parent will be required to get a court order against the absentee parent — or lose the subsidies that pay for child care.
Day care workers such as Nancy Kolben, executive director of Child Care, Inc, oppose the new rules. "We don't believe that access to child care subsidies should be dependent on a mother's ability to get a child support order," she says.
Custodial parents, 84 percent of whom are female, are often grateful for government help in finding absentee parents and extracting child support from them. However, low-income families are as emotionally complex as any others. A mother may fear the father will abuse her or the child, and thus try to hide from him. She may dread "normal" outbursts of temper from a man who learns he is going to have chunks taken out of his paycheck until his child turns 21. Some non-custodial parents retaliate against a child support proceeding by demanding custody of the child themselves.
One divorced mother of three children recently found out she had to sue their father for child support. He has custody of two children; she has the third. According to Susan Antos, of the Greater Upstate Law Project, the divorce was so bitter that the mother knows, "Once he gets served with papers he'll turn around and counter sue her for child support," for the two children who live with him.
Absentee parents of low-income working families are often poor, unemployed, in prison, and/or have disabilities that prevent them from making a decent living. Many already take responsibility for a child by giving necessities, gifts, money, or their time on an informal basis. The new policy may result in children trading the emotional support of a father who visits for a child care subsidy.
Parents who use subsidized child care but are not on welfare must personally be the "plaintiffs" in their child support cases. Parents on welfare don't have to take days off from work to go to court: they assign their child support rights to the state, which becomes the plaintiff in the support case.
"Parents who receive child care subsidies work in low-wage jobs where they can only take days off without pay, or at the risk of losing the job completely," explains Susan Antos of the Greater Upstate Law Project. She works with parents in areas of New York State where the requirements are already in effect. "They have to prioritize their days off, saving them for doctor's visits and days when their children are sick."
To get a support order, a parent must take a day off to file a petition in Family Court. A second day is needed for the first return date. If the non-custodial parent doesn't show up, or hasn't brought all the right paperwork, the case will be adjourned. If the non-custodial parent objects to the order, or claims not to be the father, more court dates will be needed.
One mother told Antos that her employer warned, "You take another day off and you won't have a job." The mother had finally obtained a child support order, but had to file more papers when the father failed to pay as ordered.
Pennsylvania used to require child support enforcement cooperation from working parents receiving a child care subsidy. They dropped the requirement in 2004, partly because a survey of local day care centers found that 28 percent of their children had left after the requirement went into effect. Parents withdrew their children for a variety of reasons:
A third of the children removed went from full-service child care programs into informal arrangements with neighbors or relatives. Ten percent of children were left alone at home, or in the care of siblings.
If New York City follows the pattern shown in Pennsylvania, once child support system cooperation becomes a requirement, individual day care centers may suddenly lose a large number of enrolled children. This coincides with a year when the funding system for day care centers has been overhauled, already jeopardizing the survival of many centers.
Linda Ostreicher, a former budget analyst for the New York City Council, is a consultant to non-profits, including the Day Care Council. She has been in charge of the Social Services topic page since November, 2001.Â
There are grownups that are more vulnerable than children, because they have no one to look after them. Some can't get out of bed or go to the bathroom on their own; others can't buy food, cook, or eat without help. They may be forced to rely on someone who hurts or steals from them. Some are months behind on their rent, even though they qualify for assistance, because they don't know how to use the welfare system. Others have money to pay their bills, but forget how or when to write checks.
These are the people who need Adult Protective Services, a small unit within New York City's enormous Human Resources Administration. Every few years, someone discovers that vulnerable adults in need are being told they aren't disabled, isolated, or abused enough to be helped.
In January 2005, Public Advocate Betsy Gotbaum joined with the Visiting Doctors Program of Mount Sinai Hospital to challenge Adult Protective Services' dangerously slow process of deciding who needs its services, and its overzealous weeding out of "ineligible" applicants. In one example cited by Gotbaum, a caseworker determined that a client did not need a guardian even though she was blind, psychotic, had no family or friends, couldn't tell anyone where her bank account was, and was unable to leave her home.
In 1999, a Brooklyn legal services agency sued Protective Services for Adults (the unit's former name) for systematically rejecting applicants who were entitled to its help. At that time, the unit was turning away patients or clients of other government or nonprofit agencies, hospitals, or adult homes. Protective Services claimed that the other organization could take charge of the client's financial and other needs; the lawsuit argued that a hospital, for example, could not become a financial planner for its patients.
In 2003 the New York Legal Assistance Group sued the city because clients were still being turned away for what Edward Josephson of South Brooklyn Legal Services called "a laundry list of excuses." The case, known as Vega vs. Eggleston, was settled in March 2005, when Adult Protective Services agreed to adopt new policies and practices to ensure that vulnerable applicants would receive help.
A few weeks later, Josephson's agency encountered a case he described as "a particularly stupid example of the exact same thing that Vega is supposed to cut through." A client was turned down for services for a number of invalid reasons including, that "they said it wasn't really an eviction because she wasn't a tenant. She was a former owner of the property who had been defrauded and was being thrown out of her home. We called up and explained, and they said 'Sorry, it's too late.' It wasn't too late for the court — she wasn't thrown out yet — but they had already made their decision." South Brooklyn Legal Services was able to assist this client because Josephson knew whom to contact: the New York Legal Assistance Group.
Over the past five years, Adult Protective Services has rejected three-quarters of the 56,750 referrals made to it. To reject a case, the city must determine either that a client is physically and mentally able to safely care for himself or herself, or that a friend, relative, or other adult could fulfill this responsibility.
When a person who is elderly or has a disability gets a Notice of Eviction, he or she can tell the City Marshal about their condition. This is supposed to delay the eviction for about two weeks, during which the marshal notifies Adult Protective Services, which then mails the tenant a letter with an invitation to call the agency for help.
In 2002, three out of five adult protection cases began when clients were threatened with eviction. Over the next two years, a rising number of eviction cases were rejected, so that by 2004, the agency turned away six out of seven people asking for help to avoid eviction.
The situation is so bad that the Department of Homeless Services is named as a co-defendant in the Vega vs. Eggleston case. As a result, the department included Adult Protective Services in its new action plan. One common-sense goal is that when people facing eviction go to Adult Protective Services for help, and they are turned down, they will be referred to the Department of Homeless Services. Another innovation is that when clients of Adult Protective Services caseworkers need anti-homelessness services, the Department will assist them. These measures sound obvious, but such cross-agency cooperation is difficult to coordinate.
The city's Adult Protective Services unit provides specific kinds of help:
More and more cases involve housing: the unit has the power to obtain back-rent payments for clients whose income will cover future rent costs. Very few people invite Adult Protective Services to step into their lives. Many clients are referred against their will, by doctors, nurses and caseworkers from private agencies who have tried every other source of help.
Once someone is brought to the agency's attention, caseworkers are required to visit the home of a client within 24 hours if there is "imminent risk of death," and within three days in all other cases. If a client is accepted, the caseworker must complete a written plan within 30 days, detailing the services a client needs. If hazardous conditions exist, the caseworker is supposed to request help within 10 days.
What can happen when services are delayed? In addition to eviction, according to Jeremy Boal of the Visiting Doctors Program, potential consequences include, "not taking lifesaving medications, putting themselves and others at risk by leaving the stove on, [or] people with Alzheimers wandering and putting themselves at risk."
Unfortunately, the settlement in Vega vs. Eggleston only addresses getting Adult Protective Services to accept more cases. Yet workers have long complained to advocates that they already have too many clients. As of June 2005, the unit reported having a total of 157 caseworkers serving 5,150 clients, for an average caseload of 33 people per worker.
"It's very difficult to communicate with caseworkers," says Dr. Boal. "We rarely get a call back." Caseworkers are often in the field, and do not use cell phones. "Until recently, some of them didn't even have voice mail," he adds. Furthermore, "There is enormous variability in the skill set of caseworkers. A lot of great people are working very hard there, but there are some that are downright antagonistic."
Melissa Brennan of the Public Advocate's Office said that the Human Resources Administration claimed to be "having difficulty installing a new voicemail system, but we're finding that caseworkers and even supervisors are still failing to return phone calls, even when the voicemail is working."
In 2001, advocates told the City Council that Adult Protective Services caseworkers were not able to win the trust of mentally ill clients, and therefore missed information critical to deciding whether to accept or continue a case. At that time, it often took a year to get a court decision on whether a client needed a guardian. Clients who were supposedly receiving financial management services were still being evicted, because the city took too long to pay their bills.
More recently, a client was found living alone, with no soap, toilet paper, or food, in a state of advanced dementia. In January 2004, a doctor recommended that she receive home help and a guardian. Adult Protective Services did not provide a home attendant until November, and had not yet arranged a guardian as of March 2005, when the Public Advocate exposed the case.
The Adult Protective Services unit has not caught up with its own technology. They now have a Web site where referrals can be made online 24 hours a day. However, the 2006 budget proposed by the mayor does not include any increase in staff for the unit. Without more and better-trained staff, taking on more clients will probably lead to services that are even slower and less effective.
Linda Ostreicher, a former budget analyst for the New York City Council and consultant to nonprofits, has been in charge of the Social Services topic page since November, 2001.Â

Nina Bernstein met with the Gotham Gazette Reading NYC Book Club at the Jefferson Market Branch of the New York Public Library on May 27 to discuss her book "The Lost Children of Wilder." Through the story of one family and a very lengthy lawsuit, it examines New York's foster care system and its effects on those it is supposed to serve and protect. The edited transcript is below.
Gotham Gazette: This month we read The Lost Children of Wilder by Nina Bernstein. The book is about foster care in New York City. It follows one family — a woman who grew up in foster care and then had a child who also grew up in foster care — and one court case for 30 years. As an introduction, Ms. Bernstein is going to read a passage.
Nina Bernstein: At this point, Lamont Wilder has been sent to Minnesota to be adopted. He's been in this family for some time [reads a passage that begins on page 218 in which his foster family tells him he has to leave].
Gotham Gazette: That passage indicates the trauma that both Shirley and her son Lamont face going through the 30-year saga of their family in foster care. Besides it being personally wrenching for the people involved, you also mention that the city spent $530,000 for the 21 years that Lamont spent in foster care.
Nina Bernstein: And he aged out with nine dollars in his pocket, a GED [high school equivalency diploma] and a debt to city taxpayers because he had a small son who was born homeless. It's a costly system, it's a harmful system, and really one of the reasons I wrote the book was to delve deeper into the mystery of why the system is so hard to fix.
We know a lot about the system; people have written newspaper exposes and other books about that. I try to give a historical perspective on the institutions that Shirley and Lamont encountered, and that this 26-year long class-action lawsuit encountered when it tried to alter that structure.
Gotham Gazette: Can you give us a basic description of the lawsuit?
Nina Bernstein: The lawsuit was filed in 1972 when Shirley Wilder was 13. It was brought by civil liberties lawyers, specifically Marcia Robinson Lowry. It challenged the system that had failed Shirley, who ran away from an abusive home. She was a motherless child, she had been abused, her father was an alcoholic. Everyone agreed that Shirley needed a home, but there was no home for her because all the foster care beds were controlled by religious agencies getting public dollars that were entitled by law to give preference to children of their own faith.
There had been a shift in the demographics of need in New York. There were black Protestant children who needed care, because these were children of the poor, and the agencies that had most of the money and most of the beds were Jewish and Catholic agencies. Children like Shirley had to wait for the leftovers. The lawsuit contended that these agencies preferred white children of any faith to black children: Any non-white child was at a disadvantage.
After a year of waiting in detention for a placement and having agency after agency turn her down, Shirley was sent to a harsh state reformatory –- Training School for Girls at Hudson –- by default because there was no other place for her. This was a place for delinquents. She was mistreated there; older girls tried to rape her with a broomstick; she ran away. This is another example of an institution doing damage when it was supposedly there to help.
This was the system that the lawsuit challenged, and it really challenged the whole power structure of ethnic groups in New York. So it was not met with great enthusiasm in the social services community, to put it mildly.
Gotham Gazette: Did it end up accomplishing anything?
Nina Bernstein: That's a tough question.
On the one hand the lawsuit became so becalmed with court hearings and reports and avoidance mechanisms in the legal system that people likened it to Jarndyce v. Jarndyce, the lawsuit in Dickens' Bleak House that went on for so long that people forgot what it meant. I know that my book has been used in some recent attacks on the value of class action lawsuits.
But I think that it did eventually have a meaning, and that using the story that way is a distortion, because the question has to be asked: What was the alternative to this kind of challenge? Clearly you could argue, and certainly Marcia Lowry would, the validity; this challenge was so powerful, so right, that it was met with so much anger and resistance. It can be argued that the biggest impact it had was right after it was filed. It just shook things up; it made visible a situation that was invisible.
But nevertheless you end up 26 years later with the lawsuit being folded into a settlement of a bigger lawsuit that Marcia Lowry brought. City politics had changed; the foster care system was almost entirely made up of children of color so that agencies had to accept them to stay in business.
Gotham Gazette: There was a recent article in Newsday, which referred to another case, which the judge referred to as having a "long and tortured history" similar to the Wilder case. Two former foster children brought suit against the city because they were mistreated by their foster families. They said that the city should be responsible for protecting foster children in families that the city has assigned them to. Like the Wilder case, it's been going on for a while. There was a decision two days ago, and the city announced that it is going to appeal. How normal is it for a case, especially dealing with children, to last for so many decades? Is that just a quirk, or a coincidence, or is that standard?
Nina Bernstein: I don't think you can call it a quirk. The whole effort at institutional reform through class action lawsuits is under attack in part because it lasts so long and then the government can say, "Oh, it's just a waste of time and energy. It we didn't have you, the court, micromanaging, we could do all sorts of other things, better things. You're part of the problem now; you're not part of the solution."
One thing that I would stress, though, in opposition to that view is that, especially in child welfare but probably in all very difficult social policy areas, there is a tendency in America to resurrect the solution before last, to make the effort to fix the problem the new problem and to resurrect some failed solution without examining what was wrong with it.
Let me give you an example. We seem to have forgotten that in the Depression, parents gave children to orphanages because they literally could not feed them, could not support them. When Aid to Dependent Children was created, the forerunner of Aid to Families with Dependent Children II – AFDC, welfare – orphanages were full. Contemporaries complained that they were terrible places that raised children who were not good citizens and could not be self-sustaining and so forth. After Aid to Families with Dependent Children, Social Security survivors' benefits and all that, the orphanages emptied. Now we have a situation where the only financial support for families raising children is in foster care. There is no right to welfare. We decided that was a mistake, that it created all kinds of problems.
We now have the Adoption and Safe Families Act, which tries to encourage adoption. That's another solution that has been popular at various times.
But one of the things that has been happening is that a lot of the children's parental rights are being terminated without foster families to place them in. We're creating this generation of legal orphans. Or you see situations like the family in New Jersey that created a business out of adopting children with subsidies. These are the kids who were starving.
We now are at a place where we say the class action lawsuit is part of the problem not the solution, but it does seem to me that the people go to court because that's the place where these children can, there's a promise that they'll be heard.
Marlyn Torres: I was so moved when I read your book. It was really eye opening. I'm curious to know if you have any update in terms of Lamont and his family.
Gotham Gazette: Lamont will be 31 years old on June 4.
Nina Bernstein: That's true. I'm still very much in touch with Lamont, and there's good news and bad news. Some of the good news came out of the book. A partner in Cravath Swain and Moore, a friend of Fritz Schwarz, who has an important role in the case, basically took Lamont under his wing. The partner – he was very impressed with Lamont – gave Lamont a job at Cravath, and he's working there.
The bad news is twofold. One, Kisha [the mother of Lamont's child] has only very rarely allowed Lamont to see his son.
The other, which is a public policy question, is that Lamont's paycheck has been greatly reduced by the child-support arrears that the state is claiming. This is not to give it to the boy, who with his mother has been in and out of homeless shelters, but to pay back the taxpayers supposedly for a period when Lamont himself was living hand to mouth, sleeping in a barber chair, trying to make a living cutting hair, and the child and his mother were on welfare.
It's really an insanity. My colleague at the New York Times, Leslie Kaufman, who now covers social services, wrote a story about the problem of so-called deadbeat dads, some of them coming out of prison with debts of $150,000.
Lamont is in this impossible situation and, because I no longer have to be objective the way I was when I was writing this book, I found him a lawyer who would work pro bono to try to challenge the arrears in Family Court. I testified because I knew the situation he was in at the time he did not pay the child support. He was impoverished and he couldn't pay. The case was dismissed. Maybe there's going to be an appeal, but it's all very iffy.
Meanwhile, just recently the state Tax and Finance Department attached Lamont's bank account – his bank account, which had 45 cents in it – for $11,000. That would have meant, had he not found it out, that his paycheck –- and let me tell you, his paycheck is little -– would have been taken because he has direct deposit.
I wanted Lamont to be able to create a home that was an alternative for his son, who is still in a very precarious situation, who could still himself end up in foster care, and it seems as though our policies, the policies toward poor people, toward poor parents, undermine that. That gets me back to this idea I touched on in the introduction to the book but that seems so important to me: It's very hard to fix foster care apart from how we treat poor children in general.
Gotham Gazette: Just to play devil's advocate here, I understand your attachment to Lamont, but what about his now 10-year-old child? In other words, isn't the policy supposed to focus on the children?
Nina Bernstein: The policy is supposed to focus on the children, and Lamont is paying child support. But you have to look at the way this is structured.
Basically, the state, the government, acknowledges that you have all these fathers who are never going to be able to pay these arrears, that this is an impossible debt. This is to us, theoretically, not to the child. Wouldn't it make more sense to help Lamont establish a home where this child can actually come?
There's a rent assistance program run by the Coalition for the Homeless. There was a point where Lamont was commuting from a homeless shelter to his job at Cravath, Swain and Moore. I referred him to this rent assistance program, and they said, "The problem is that his take-home pay after this garnishment of his wages is too small for it to be worthwhile for us to subsidize his rent because he won't be able to live anyway."
It doesn't help Lamont's son to make his father homeless or for Lamont to decide this is hopeless, the thing for me to do is not to have a real job with a paycheck but to go into the underground economy. I'll do better selling drugs or running numbers. And that's clearly what a lot of fathers have done. So something's not working here.
Gotham Gazette: Is the money that's garnished going to his son?
Nina Bernstein: No. As I understand it, the mother, who has meanwhile had another baby by another man, is on welfare again. So all that Lamont's child would be getting is…only a portion, a relatively small portion. A larger sum was going to the mother when she wasn't on welfare and when she was working.
Obviously you want fathers to be responsible to support their children. You also want them to get to see their children and to develop a relationship with them…
In this case I know this little boy wants a relationship with his father. He wants sneakers and school clothes and meals every day and a roof over his head too, of course, but he also needs a relationship with both his parents.
Marlyn Torres: Since the book leaves off [in 1999], there have been changes in child welfare in New York City. Elisa Izquierdo died, the Administration for Children's Services was created and there have been other changes in the child welfare system in the last 10 years. Any thoughts on those changes?
Nina Bernstein: I have to say first of all that I am not closely following the Administration for Children's Services at this point and I haven't been in the last couple of years mainly because I'm not covering it. I'm covering immigration now for the New York Times.
But clearly there's been a big change in the Administration for Children's Services since the end of the Wilder lawsuit. It's interesting because Nicholas Scoppetta, who is often credited with overhauling the agency, doesn't want to give any of the responsibility for the changes to Marcia Lowrey's successor lawsuit to Wilder, the Marisol case. Nicholas Scoppetta says the lawsuit had nothing to do with the changes but he credits the coverage of Elisa Izquierdo's death.
I started writing this book when I was at New York Newsday for which I wrote a two-part series about Wilder 20 years later. I came to the Times in October of 1995, when I was writing the book, with all of this — or almost all of it — in my head. So the stories that I and my colleagues wrote about the Elisa Izquierdo case took that death and talked about it systemically. In a sense, that coverage would not have been there without the Wilder case.
That also harks back to this question of the role of a class action lawsuit. There were depositions, there were subpoenas, documents. There was a whole trove of material that documented what the system had done, what its problems were, so this wasn't just a flash in the pan. It wasn't just one bad social worker.
But, now there's the other part, what happened after the Elisa Izquierdo case. At first there was what Richard Wexler, executive director of the National Coalition for Child Protection Reform, calls foster care panic. This girl had been beaten to death by her mother on the city's watch, so they pulled all these kids into foster care. That was supposed to be the safe way to go and, in fact, a lot of these kids were hurt in foster care. It was the wrong thing.
Well, then there was a shift. It's all been very hard to untangle this, but ultimately my sense is we now have an administration that is very much for trying to keep families together, providing preventive services. The numbers in foster care have gone way down. However, again, there's a caveat. If you look back over the history you see there are these roller coaster ups and downs. When foster care numbers go down, reform is possible. It's possible to hold agencies to stricter account and so forth. When demand goes up and foster care numbers go up, it all goes out the window. They throw out the standards. They'll take any bed.
I don't want to downplay the fact that there have been really important and very positive changes in the child welfare system. I like to think that the attention that a lot of people brought to it in lawsuits, in newspaper stories and in books made a difference but I don't think we can rest on our laurels.
Gotham Gazette: You mention you are writing about immigration for the Times now. We are in the midst of the largest immigration boom in a century. How has that affected the foster care system?
Nina Bernstein: Clearly there are some impacts, including one that I found very interesting and wrote about. This is young immigrants who come seeking political asylum — unaccompanied minors trying to rejoin relatives here — and end up in foster care. There was a terrible problem of these kids aging out of foster care, like so many Americans kids aging out of foster care, without good skills or enough money to make it but, even worse, aging out into statelessness or immediately facing deportation. Even though they might have been in foster care since they were very young, no one had ever gone to the trouble to see that they got green cards and had immigration papers that allowed them to stay or get financial aid for college.
There are also issues in immigrant families regarding methods of discipline that here are considered abuse, or children threatening their parents that they'll call Administration for Children's Services.
But the bigger impact is the poverty in which children of immigrant families often live. We have an idea of how positive it is for children to see their hardworking immigrant parents. Then, they are all going to be strivers and have the success story that we can recall in our parents' or great grandparents' stories.
But the reality is sometimes a little different. You have children who are left at home because the parent is working three jobs. Or you have extremely overcrowded conditions because the only way to pay the rent is for people to be living with 26 roommates, like the New York magazine story about David and his 26 roommates.
Ironically, this may be one of the reasons that the number of kids in foster care is down. Our standard for what is acceptable for the children of the poor may have gone down. I mention in the introduction that in American history there's been a kind of iron rule that "conditions must be worse for the dependent poor than for anyone who works. The seldom-acknowledged corollary is that the subsidized care of other people's children must be undesirable enough or scarce enough to play a role in deterring parents from seeking it for their children. In the late 19th century, charitable reformer Josephine Shaw Lowell expressed this view when she insisted that "the honest laborer should not see the children of the drunkard enjoy advantages which his own may not hope for."
So, if you have immigrant workers who are being paid less than minimum wage and they can only provide this really very paltry situation for their child, how can foster care be great? If it were, wouldn't it be in the best interests of children for good parents to give them up into foster care? This is what happened in the 19th century when you had this idea of using orphanages as a kind of free boarding home, as a kind of boarding care for the poor.
Darius Ross: My parents were involved in the foster parenting system, taking a child in who had a lot of problems. When I first married, I did the same thing. The question becomes, are we as a minority group missing those kids that are falling through the cracks?
We have formed an organization of wealthy minority philanthropists. What can we do as minorities with money or minorities with wealth to make some transitions?
Nina Bernstein: I do think that there are a lot being missed. There is an interesting theory that it is in the homeless shelter system that you now see kids together with their families, or with their mothers anyway, who previously would have been in the foster care system.
So yes, you are probably missing it. Now my reaction to the idea of a philanthropy of African Americans, or people of color, who would help their own is very mixed. On the one hand, it has this real positive sound, and is absolutely in the same tradition of other groups. It is what happened with the Jews and the Catholics. But I think that there are real pitfalls in the systems in the agencies that are created by this effort. There is always a kind of conflict of interest. You want to keep the institution going, you end up wanting the donors to feel good.
I found extremely valuable the work of Justine Wise Polier, this judge who was so sorry that , after a lifetime of trying to reform the system, she felt she had no choice but to send Shirley Wilder away to the training school for girls. The judge was then in her 70s but she did something that was very valuable: She wrote about the system that she had known at a time when the poor children in foster care were white, not black. From the description of these institutions, where they had the good set of china for the donors who came, the medium stuff for the staff, and the crap for the children, you realize that class can have a more important effect sometimes than race or religion.
Having said that, I think that foster parents do some terrific work. What was the saving grace for Lamont Wilder? It was that his first five years were with a loving foster mother, who became his de facto mother. As it happened, he was black and she was Hispanic. It wasn't that that was without problems for him. He clearly had a problem with being dark skinned and his mother wasn't. Then when he was sent to white families there were also problems. But the point is he had this loving foster parent. A loving foster parent can be very important. And if your parents were involved in that, if you were involved with that, you know that a foster parent can make a huge difference in the life of the child.
I'm not saying foster care is always the wrong solution. It's just that, on the whole, what you want to do is not make more foster care or more institutions. You want to try to make the necessity for them as small as possible.
Irene Williams: About three years ago in an agency that purports to represent the needs of children in foster care in the courts, there was a case of a little girl about eight years old who had broken ribs, broken arms, horrible, horrible stuff going on. The Hispanic father claimed everything was fine and he wanted his family back. The person who I reported to at the agency said that there were no places where Hispanic men could comfortably go. Well this is nonsense; there were lots of places where they could go. But [my supervisor's] goal was to bring families back together no matter what. And over this issue we parted.
This was a very bright, young black woman who took her stand and did not deny in any way that it had to do with racial pride and so forth, which is terrific. But the best interests of this child were in no way being served.
The opposite was going on in Chicago, where Patrick Murphy has insisted that children be removed from dangerous situations after one case where a child was returned and was found hung.
Nina Bernstein: My experience as a newspaper reporter covering foster care in three different states over many years is that all systems err in both directions. Even if the philosophy may shift at the top, and there may be an extreme "let's keep the families together" attitude or an extreme "let's take the kid out and run' attitude," that is rhetoric. On the ground, you see the system almost inexplicably leaving kids in abusive situations whether with parents, foster parents or institutions, or pulling kids in circumstances where you feel like a little help is all that is needed. And, obviously, there are situations where they do it right.
In your situation, you had an individual case and an individual worker where it seems as though, from the way you tell it, philosophy and principle were standing in the way of doing what was clearly right for this child. But most of the time it isn't like that.
I remember covering a story about twins here in New York who were accused of raping a neighbor. They were something like 13 years old. It was so monstrous. Then you look at what their experience had been. They were homeless, taken into foster care, moved to and fro, and twins whose twin was all they had left –put in separate foster care situations. I'm not saying that it excuses them, but they would have been better off with their mother, who they were back with anyway. But it was at the time of the Elisa Izquierdo case, and the idea was to bring kids into the system.
There is also a money issue. I'm not saying that simply more money is necessarily the answer. But the foster care rate that the city pays has gone down and down. There's a limit to what an agency can provide with what the rate now is.
Katie Stoehr: Not only has the state rate gone down but New York City doesn't even pay the full state rate to the contracting agencies. They pay about 93 percent of that, and for some agencies that's a difference of millions of dollars a year. That could be more intensive casework, that could be therapeutic support, that could be all sorts of mentoring programs that got slashed years ago. A lot of stuff could happen with that more money.
I've thought a lot about what we can do and it's really hard for a lot of the reasons that you just spoke about. It's impossible to divorce child welfare from general issues of poverty. But the one thing I keep coming back to over the past couple of years I've been working in this system and seeing different sort of child welfare scandals erupt: For a week or two, people care a lot and then they don't. Then they care about something else.
It's hard for a child to advocate for him or herself. It's awfully hard for an abusive parents who's at their wits end, maybe has mental health or drug issues to advocate for him or herself. The kids who are left in foster care right now are mentally ill or have behavioral issues. Some of the teenagers have criminal histories. There aren't often people willing to take a 13-year-old fire starter into their home. So I was glad to hear your tone throughout that this was not this is the evil system doing its evil thing because the system is us. It's our system and if we don't like it we need to all change it.
Nina Bernstein: You make very important points. What you were saying about children not having real advocates or needing advocates helps point out why I end up coming around again, to feeling great admiration, for all her flaws, for Marcia Lowry, who stuck with this. I know there are things that she's done also legally that have angered people, who feel that she is insufficiently sensitive to the needs of poor parents or that she's politically tone deaf. But the fact is that someone who is trying to speak for these children is very important, whether it's someone within the system or someone who's outside the system calling on all of us to do better.
Meta Bodewes: I work in the system with parents who have lost their children or in danger. It can be very depressing to think that in 30 years, the system has not changed. I'm sitting in Family Court the other day and I thought, "This is exactly the same. Why are we sitting here for three hours waiting to hear this case? It's going to take two seconds in front of a referee. You wait in line longer than you are actually in front of a judge."
Given that you know Lamont and that you have covered foster care, what gives you hope? You don't sound cynical, you don't sound bitter, angry, you're still very fair. You see all the sides – there's more than two. What is it out of all of the things that you've learned that keeps you so not cynical, which would probably mean you're hopeful?
Nina Bernstein: I think what keeps me hopeful is the human resilience that I saw even in Shirley, the fact that she was proud of the Wilder legacy, and the pain that she felt — which if I start talking about I'm going to choke up — when she realized that her grandson was at risk of going into the system.

In the late 1960s, women began entering the New York City labor force in unprecedented numbers – just as the city began a steep economic decline. Even as the number of jobs in the city began to drop, women filled more of them. But more than 30 years later, major differences persist between men and women in the city.
Women concentrate more in sales and office work, while men predominate in construction and production jobs. In all fields, women tend to the lower paid jobs, and a wage gap between men and women remains. "Just being a woman has an important effect on your educational attainment, what job you get and how much you make," Ester Fuchs, an adviser to Mayor Michael Bloomberg, said at a panel discussion recently.
The discussion, cosponsored by the Museum of the City of New York and Barnard College, marked the 30th anniversary of the NYC Commission on Women's Issues. Panelists discussed the overall state of women workers in the city and focused on three disparate fields: poorly paid – and overwhelmingly female – home health aides; traditionally male – and well paid – construction jobs; and Wall Street, where many women still find obstacles to the top jobs.
Just being a woman has an important effect on your educational attainment, the jobs you seek, and even how much money you make at the end of the day, the end of the year, or the end of your lifetime.
Females in New York City comprise almost 53 percent of the over 8 million people that live in the city. Overall, the population of New York City increased about 9 percent across all races from 1990 to 2000.
Asian, non-Hispanic women have increased 60 percent, even though they only comprise 9.2 percent of the population. They are the fastest growing group.
Hispanic women have increased 23 percent. They are currently 27 percent of the population.
Black women have remained constant; they remain about 26 percent of the population.
White women as a proportion of women in New York have declined by 12 percent. They are still the largest group with 35 percent of the population.

Your race, your ethnicity, and your age have an impact on your earnings and your capacity for finding an occupation. All of these demographic factors — these gripping characteristics of who we are — have an impact on who we become. Is it etched in stone? Does it have to happen this way? No! But if we don't create interventions, whether public or private, we can be sure that the patterns of the past will become the patterns of the future.
As a group, Hispanic women in the city are the youngest; 40 percent are under the age of 25. And white women are the oldest. Almost half are 45 and older.
In some groups, a higher ratio of immigrant men come here alone, and in other groups, a higher ratio of women come alone. So among Pakistani and Mexican immigrants you find 150 males to every 100 females, and among immigrants from Jamaica, Trinidad, Tobago, and the Philippines, there are fewer than 75 males for every 100 females. This has implications for who will become, over the long term, part of the American fabric.
Another interesting piece of data along those lines: Fifty-seven percent of births in New York City are to foreign-born mothers. That means the growth of our population is largely dependent upon the new immigrant women who come in here. These are the kids who are in families where there is low income, low educational attainment. If we are not focusing on these families, we are not focusing on the future of the City of New York.
Educational attainment for those over 25 years old varies greatly by race.
Forty-six percent of Hispanic women have no high school diploma, while only 11 percent have a bachelor's degree or higher.
Among white women 16 percent have no high school diploma, while over 40 percent have a bachelor's degree or higher.
Among black females about 28 percent have no high school diploma, 28 percent are high school graduates, 27 percent have some college, and 17 percent have a bachelor's degree or higher.

For Asian women we see a very skewed population. A large group with no high school, 33 percent, and a large group with bachelor's or higher, 35 percent. There is really misinformation that all Asians have high educational achievement. In fact, many are new immigrants, and the parents do not have higher education achievement. It's interesting to see the children in these communities achieving at a better level than other communities made up of people who were born here.
On the whole, women are slightly more likely than men to have no high school diploma, 28 versus 27 percent, and women are slightly less likely to have bachelor's degree. The exception is that educational attainment is higher among black women than black men.
In all race groups, men participate in the labor market at higher rates than women. The difference is most pronounced among Asians, only 53 percent of Asian women are in the labor force compared with 69 percent of Asian men. And labor force participation rates are most evenly distributed between black men and women, with 56 percent of women in the labor force and 60 percent of men.
Women are more likely than men to be employed in sales occupations. Women are also more likely than men to be employed in management occupations, and men are more likely to be employed in production and construction positions.
Women still earn about 80 cents on the dollar compared to men. In management jobs, men earn on average $76,000 a year, while women earn about $55,000 a year. The greatest differential between men and women is in production jobs, essentially manufacturing jobs, where women earn about 54 cents on the dollar. Women in construction, however, earn more on average than men. Women earn $1.04 for ever dollar for men.
The earnings ratio between male and female is lowest among whites, that is to say that white women earn on average, 74 cents on the dollar to white men. Black women are bringing it up for the rest. Black women earn 94 cents on the dollar to black men. I don't know if this is a story about black women or a story about racism against black men, but black women have less gender inequality on wages than white women, Asian women, or Hispanic women.
These data are not simply about why patterns have emerged, but what we as a society and we as a city can do to address such patterns and ensure that women truly live in a city of equal opportunity.
–Ester Fuchs, Mayor Michael Bloomberg's special advisor to for governance and strategic planning, and a political science professor at Columbia University
When you read murder mysteries or you watch police shows and try to figure out what happens and who did what, the answer always is "follow the money." Women in general across the country are skewed to the lowest paid industries in the economy, and within any given industry, women are skewed to the lowest paid jobs. That is why our wages are less. So how can we get out of that? One of the things we can do is go where the money is.
There is a tremendous opportunity in construction jobs. These are good jobs. They are union jobs with good pay, good benefits and pensions. Many people enjoy doing them, they get a lot of satisfaction out of doing this kind of work. After 9/11, when they interviewed men helping to do the cleanup, they talked about how they remember their fathers working on building those towers and how proud they were to be part of building this magnificent city.
In the coming years, the construction industry is going to provide a great number of opportunities. That is partly because of the construction expansion in this city – the rebuilding downtown, a higher rate of new housing starts. And many of the men in the industry are aging out. They want to retire and their sons, who have traditionally taken those jobs, may be doing something else.
So, we are looking at potentially 30,000 new jobs in the next five to 10 years. The question becomes how do we get women to know about these jobs, how do you get them into the jobs, and then how do you get them to keep those jobs.
One of the problems in getting women into these jobs and into many non-traditional jobs is that women don't know about them. They don't see themselves in those jobs. We did some research on what would happen to women who were thrown off welfare. The social workers would say to the women, "What do you want to do?" and they would say "what do I know how to do? I know cosmetology."
When you change the sets of questions and start giving out information about the differences in pay — $6, $7, $8 an hour versus $20 or $30 an hour — suddenly the number of women interested in construction jobs soared – just soared. It's information that counts.
Clearly, for women across the board — and for non-traditional jobs and jobs with a difficult schedule — childcare is an important piece that has to be filled in. That really has to be a social responsibility. This business that each individual woman is the only one responsible for this kids and maybe, if she's lucky, she gets some help from the father or her husband is something that clearly has to change.
One day I thought I had the most brilliant idea in the world about childcare. I said, "The answer is that we don't just have maternity leave for mothers but that we require fathers to take paternity leave, we force them." And you know what? Norway does it. So it's not so wacky.
Why can't it be that way? Part of the problem is changing the stereotypes about men as much as it is about changing the stereotypes about women.
Discrimination against women still runs deep – very deep – in these non-traditional jobs. The unions have gotten good wages, good benefits, and good pensions for their members. The other side of the coin though, is: are women going to be allowed to get those jobs and keep those jobs? We are going to have to get women to take jobs that pay more and then we have to change the conditions on those jobs.
–Kathy Rodgers, president, Legal Momentum
Homecare workers in New York City and throughout the nation are among the most undervalued workers. Many of us would not be able to function, go to work and have our lives if we didn't have a person coming to take care of a loved one, neighbor, or relative in such a caring and loving way. At least 80 percent of home health aides are women.
The structure under which home health care is delivered here is unique to New York City. There are two completely different streams of services — one through the New York City Human Resources Administration and the other mostly through private companies that are licensed to provide home-care services. The payments are different also. The HRA system was organized by the 1199 union in the early 1980s. Home-care workers working under that system average $9 to $10 an hour with family health care coverage, pension plans, access to educational programs.
The home health aide side is mostly private. The jobs are largely minimum wage and without access to education programs or health benefits. So, the benefits of unionization in this case are extreme.
One topic that has not been discussed very widely is that the pool of workers who are between 25 and 44 is shrinking, because of the smaller post baby-boom generation entering the workforce. Fewer women and workers will want to go into low-wage and undervalued jobs as more choices come up for young women, even those who don't have high school diplomas.
–Faith Wiggins, Director, Local 1199 Bill Michelson Home Care Industry Education Fund
I started off at Goldman Sachs in 1980 after business school. To tell you the truth, I had no idea how difficult the environment would be on Wall Street for women at that time. There were very few women when I started. There were more women when I left, but women had not achieved the higher ranks.
We all like to think that women have made significant gains in the last five to 10 years. But Catalyst, a research and advisory group that supports women in business, recently conducted a survey of women on Wall Street to get the opinions of women and to get the opinions of men and to see if there were any differences. Only 18 percent of the women report that women's opportunities to advance to leadership positions in their firms have increased greatly in the last five years compared to 50 percent of the men. So, there's still a perception on the part of these women that they can't advance to the highest levels of their firms. I think that says a lot.
There are significant barriers to women rising in their firms. Most women believe that one of their biggest challenges is their outside demands with their families.
The challenge in the business world is your competition. If you're a female and you take time off every day or if you go on a part-time basis for a period of time, your competition – males — are not doing that. There is job sharing, part-time work, but employers are not generally sympathetic to that in part because the companies are run by men and they have plenty of workers who don't need those special considerations.
If you look at statistics for law school graduates and business school graduates, the majority of women have taken some time off during the last 15 years. It is hard to get back, but it's not impossible. The biggest barrier is that, when the woman goes back, she is generally dealing with an unsympathetic work environment.
I also spent some founding a women-owned investment-banking firm. I did that in part because I wanted to have more flexibility and more opportunity for advancement, which I couldn't see in the big firm. An entrepreneurial situation is not right for all people but it's a viable option for women today. If you have the mindset and the skills to break out on your own or break out with a small organization I think women actually have greater opportunities.
Women need to think about their careers as a long-term project. There will be different opportunities at different points. It is very important for the next generation of women and for all of us today to think through what the educational institutions, the society and the city can do to help women be more aware not only of the options they have today but also the consequences and plan for the long term.
Every woman who is out in the workforce has to take responsibility for her life, and for that of her corporation, her union, her organization, whatever. That's the only way improvement is going to happen. It's not up to Catalyst. It's not up to the city. Everyone has to take that responsibility.
–Deborah Buresh Jackson, private equity investor
Â
Page 6 of 13


Gotham Gazette is published by Citizens Union Foundation and is made possible by support from the Robert Sterling Clark Foundation, the John S. and James L. Knight Foundation, the Altman Foundation,the Fund for the City of New York and donors to Citizens Union Foundation. Please consider supporting Citizens Union Foundation's public education programs. Critical early support to Gotham Gazette was provided by the Charles H. Revson Foundation, Rockefeller Brothers Fund and the Alfred P. Sloan Foundation.
© 2019 Citizens Union Foundation 501(c)3, All rights reserved | Citizens Union Foundation Privacy Policy | All work on GothamGazette.com is licensed under a Creative Commons Attribution 4.0 International License